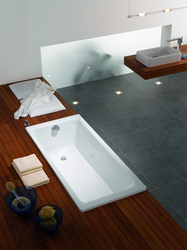 Indianapolis, IN (PRWEB) July 26, 2010
The Kaldewei PURO bathtub is perfect for devotees of clear design contours. The purist design of the PURO in durable Kaldewei steel enamel reflects the modern approach of architects and interior designers in reducing everything to the essentials.
PURO adds a clean, architectural element to any bathroom without overwhelming the space with its simple line and a gentle interior tapering that maximizes comfort when reclining.
The 10 standard models in five different size combinations of the Kaldewei PURO gives homeowners, builders, architects, contractors and interior designers a wide variety of choices all developed to maximize the internal bathing space. With narrower sides than a typical bathtub, the PURO dedicates more of its spatial footprint to bathing – an ideal solution for narrow bathroom spaces and cramped apartment owners looking for a modern edge.
Like all Kaldewei bathtubs and shower trays, the PURO is made with 3.5mm Kaldewei steel enamel, an exclusive material with the highest degree of abrasion, scratch and impact resistance. For reasons of quality, Kaldewei produces the enamel itself and the company is so sure about the material's superiority that it gives a full 30-year guarantee on its bathtubs and shower trays.
About Kaldewei
The Kaldewei brand stands for superior quality, discriminating design and creative solutions for the bathroom. The company began in 1918, under Franz Kaldewei, and, in 1958, produced the world's first "seamless" bathtub. Kaldewei maintains a tradition for innovation that has made it the leading bath manufacturer in Europe with a product range of more than 300 baths and shower trays and designs created by the Italian design studio Sottsass Associati in Milan, Phoenix Design in Stuttgart/Tokyo and in-house. The company's commitment to quality and durability is reflected in a 30-year guarantee on all Kaldewei steel enamel baths and shower trays. The enamelled steel is 100 percent recyclable and Kaldewei's sound environmental approach to manufacturing, packaging, shipping and disposal makes the products particularly interesting for ecological, sustainable building projects. Kaldewei is family owned and operated and headquartered in Ahlen, Germany.
# # #