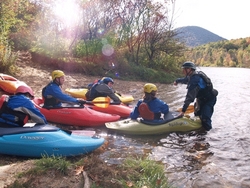 "I encourage you to take a beginner course and have the time of your life. If you have a family, take them too. Thank you Zoar Outdoor for giving me something to do every weekend with my family. I have made a lot of great friends on the river and at Zoar"
Charlemont, MA (PRWEB) July 23, 2010
The world of paddlesport is changing rapidly, due to lots of media attention more people than ever before are aware of the sport. Today's youth are trying sports that push them to their physical and mental limits and whitewater kayaking satisfies those passions perfectly. It's a unique way for families to spend time together, get in shape and give kids a skill that they will have for a lifetime.
Zoar Outdoor located in western, Massachusetts on the Deerfield River has made a very intentional effort in the last few years to get more of the general public into kayaks or canoes and to teach them how to paddle safely. These efforts have been possible with members of Team Z traveling on location to share information about paddlesports with the public. Team Z members work as paddling instructors for the Zoar Outdoor's Instruction Programs and have demonstrated excellence in their field. Team Z started five years ago as a way to support select staff and provide careers in the outdoor recreation industry to local instructors.
Team Z started out with the Five College Outdoor Festival at Hampshire College in Amherst this past winter. The event attracts college kids with pool kayaking, indoor climbing and a film festival. Zoar provided the kayaks and instruction in the pool. This was followed by co-sponsoring the Paddle Smart Day in March with the State of Connecticut Department of Environmental Protection, Bureau of Outdoor Recreation - Boating Division.
Next Zoar's Team Z headed to the NE Triple Crown Championships on the Housatonic River in April to compete in a 2-day, 3-race event. A week later the team was up in Hanover, NH as a co-sponsor of the Dartmouth College Ledyard River Festival. This is another outreach event for the college community with films and demonstrations and race for experts paddlers. In early June the team was at two community events – The Merrimac Valley Paddle fest in Lowell, Mass. and the Esopus Whitewater Funfest in New York. Both festivals featured booths, food, demos and films for the public. Later this summer several Team Z members will travel to the Potomac River in DC and the Animas River in Colorado to compete nationally.
Zoar Outdoor also hosts a number of events on the Deerfield River starting with its Annual DemoFest in late June– a 3-day event free to the public with on-the-water classes, gear demos and food. This event brings in other industry experts from around the country to show the latest gear and techniques. Later in the summer Zoar will put on some fun downriver and slalom races for local paddlers to test their skills against the clock.
Janet Cowie, Director of Instruction at Zoar Outdoor oversees it all and makes sure that Team Z members are at the top of their game for teaching and racing. As a World Kayak Ambassador, American Canoe Association Instructor Trainer Educator and member of the Safety, Education and Instruction National Committee her work guarantees that Zoar's staff and students are getting the best instruction in the world of paddling. She also ensures that Zoar's mission "inspiring people to experience sustainable outdoor adventures that build strong communities" is fulfilled at every event and in every class.
Zoar Outdoor has been offering family-friendly outdoor adventures along the Deerfield River in the culturally-rich Berkshire Hills of western, Massachusetts since 1989. Family owned, the company offers a wide variety of human-powered adventures for all ages from April through October. Zoar has a reputation for excellent customer service, environmental concern and developing a community around people who like to play outdoors. Zoar has multi-sport packages with on-site lodging options that can be tailored for every vacation style!
# # #