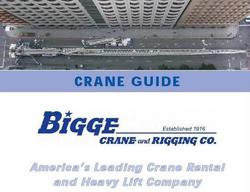 San Leandro, CA (Vocus) July 21, 2010
Bigge Crane and Rigging has created a crane reference guide containing basic information on the majority of the cranes and equipment in their rental fleet. Bigge Crane and Rigging has one of the most diverse, largest, most modern, and best maintained crane fleets in the U.S. The crane fleet reference guide checks in at almost 400 pages and was nearly a year in the making.
Bigge has also recently debuted new instructional guides, How to Read a Crane Chart and How to Use Crane Hand Signals. Each of these guides is available for free download from the Bigge website. All these new guides come on the back of Bigge's new crane reference library, an industry leading resource featuring crane descriptions, specifications, features, crane charts, pictures and video of cranes in the field, as well as pricing and current inventory status for almost every modern crane.
About Bigge:
Bigge Crane & Rigging is among the largest crane rental operators in the U.S. Bigge also has one of the youngest and most dynamic fleets, adding over fifty cranes to their fleet in the last year, including the giant Manitowoc 16000 and Liebherr LR1600/2 crawler cranes, both optimized for wind farm erection. Based in San Leandro with thirteen offices across the U.S., Bigge does operated and maintained work west of the Rockies, and offers bare rental nationwide.
###