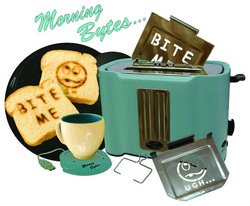 New York, NY (Vocus) July 22, 2010
Pop Art Toaster™ help people beat the early morning blues with their classic 50's era style Morning Bytes™ toaster set!
Back in the fifties, America was rapidly growing technologically and creating a new stylish way of life for families. Today, many long for the good old simpler days, but cannot imagine life without computers, which are especially omnipresent among college students and young adults. With more and more time spent in front of computer screens, the only problem is—how to connect to the social network and keep that cup of joe hot?
Pop Art Toaster™ has solved that modern age-old question by creating an updated retro appliance set that is an homage to simpler times. The fifties inspired toaster design features cool touch housing and comes in a 2-tone teal and black color. It has 3 toasting functions and can toast on 7 different heat settings, so even the pickiest toast connoisseurs can have it their way!
Similar to the TV dinners of the fifties, where families gathered to watch and eat at the tube, people are now gathering around the computer screen in the mornings to catch up on news, weather, and mail. Pop Art Toaster™ has embraced the era of affordable computers and is ushering in computer breakfasts. Plug the mug warmer into a USB port and ease into the day with a leisurely morning of coffee and browsing the internet. It even comes with a melamine tray for your breakfast like the ones invented during the onset of Swanson's TV dinner.
For those who just aren't themselves until that first cup of coffee and slice of toast, the Morning Bytes™ toaster provides the perfect pick-me-up. Morning Bytes™ comes equipped with stencils image plates that brand funny phrases like "Bite Me" and "Ugh…" onto toast for a simple meal with attitude.
Pop Art Toaster™ has garnered quite a celebrity following with actors like Kevin Sorbo, Neil Patrick Harris, Camryn Manheim and Deidre Hall all taking home a toaster. They have been featured in numerous publications including InStyle, Time, and Entrepreneur magazines.
For samples or additional information, please visit http://www.poparttoaster.com or contact Press(at)chicblvd(dot)com
Contact:
ChicExecs PR
http://www.chicexecs.com
1487 Poinsettia Ave. Ste. 125
Vista, CA 92081
760.992.9113
ChicExecs PR is an "out of the box" PR company which represents over 70 clients. ChicExecs has created an innovative approach to PR dedicated to helping small-medium businesses receive media coverage. Our revolutionary automated system is changing the face of PR. To learn more about ChicExecs visit http://www.chicexecs.com
# # #