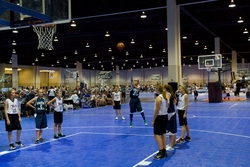 The AAU is such a great organization. We're beside them in their goal to promote amateur sports and all the fun, camaraderie and health benefits they bring. Our BounceBack flooring is a perfect fit for the AAU - it's easy to install, works for dozens of sport and provides unmatched performance & safety for these top amateur athletes to compete on
Salt Lake City, UT (PRWEB) July 23, 2010
The Amateur Athletic Association (AAU), one of the world's largest volunteer sports organizations, is hosting its West Coast National Championships July 22-25 at the Las Vegas Convention Center and SnapSports has been chosen to provide the athletic surfaces for the championship basketball courts.
During the AAU West Coast National Championships, athletes ranging in ages 7 to 17 will compete on more than 45 courts featuring 100,000+ square feet of SnapSports BounceBack® sports surfacing. Each square foot of the patent BounceBack basketball surface contains over 1,000 shock absorbers, providing the highest level of 'cush' for high impact competitive play as well as superior ball performance.
"The AAU is such a great organization. We're beside them in their goal to promote amateur sports and all the fun, camaraderie and health benefits they bring. Our BounceBack flooring is a perfect fit for the AAU - it's easy to install, works for dozens of sport and provides unmatched performance & safety for these top amateur athletes to compete on," said Jorgen Moller, CEO of SnapSports.
The AAU is one of the largest non-profit volunteer sports organizations in the United States. A multi-sport organization, the AAU is dedicated exclusively to the promotion and development of amateur sports and physical fitness programs.
About SnapSports - SnapSports is the official provider of courts for the United Sates Futsal Federation, and USA Team Handball, The Special Olympics and SnapSports is a FIBA Associate Manufacturer. SnapSports is also the leading manufacturer & supplier of volleyball courts, outdoor multi-sport game courts, and home gym floors. Located in Salt Lake City, Utah, SnapSports manufactures 24 hours a day, 7 days a week, 365 days a year in their 100,000 square foot facility. SnapSports is backed by three decades experience, no company in this industry has more hands-on experience within the management team than SnapSports.
###