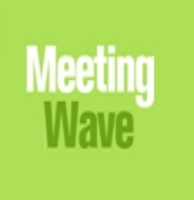 New technology provides a safer and more reliable online experience.
Ridgefield, CT (PRWEB) July 27, 2010
MeetingWave® launches new patent pending verification technology that allows members to have their work, alumni or other email addresses "verified" and display an indication of that verification on their profile page (meetingwave.com/p/username). 
A "verified" email address is one that has been confirmed as authentic and valid by a user clicking through a verification email sent by MeetingWave.  Verified email domains (e.g., @ibm.com or @brown.edu) can be displayed on the user's profile page letting others know the user is affiliated with the company or school via a valid email address. Importantly however, the user's full email address ([email protected]) will not be displayed protecting the user's identity and contact information.
The innovative feature allows users to verify their background information to other users before meeting and also ask others to do the same. Individuals can create one verified profile with their identity (e.g., full name) and another without their identity.
At the same time, individuals can use their verified email on their profile page at other popular sites such as LinkedIn, Facebook and Twitter, as well as for blog comments, and when using Craigslist.  The need to validate identity on Craisglist, in particular, is an issue for many, and MeetingWave's new functionality allows users to request to see someone else's verified page before meeting them or before bringing them into the user's network or agreeing to buy or sell an item on Craigslist.
"We have heard about fake alumni on LinkedIn and Facebook and about various online-scams," explains founder John Boyd, "MeetingWave's new verification feature promotes trust and confidence in the information posted on a profile page and can be used virtually anywhere providing a safer and more reliable online experience."
About MeetingWave.com
MeetingWave's core mission is to help members develop real, personal relationships for business or social purposes, while providing them with control, privacy and flexibility in setting up these meetings. MeetingWave's users can propose networking meetings that are open to anyone -- yet they can still maintain control over who can ultimately attend and whether the meeting occurs, while also keeping their identity private until they are ready to disclose to the other members.
About TTB Technologies, LLC
TTB Technologies, LLC currently owns the MeetingWave platform, and all related assets (including U.S. Patents 6,963,900; 7,483,946; 7,716,285; pending patent applications and certain registered trademarks). TTB Technologies, LLC was founded for the purposes of creating, developing, licensing and commercializing new technologies and intellectual property.
# # #