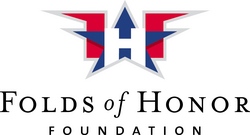 "Here's a perfect way for people to support the Folds of Honor and the work we do right from their computers and it doesn't cost a thing," - Dan Rooney, Founder, Folds of Honor and PGA Professional
Tulsa, OK (PRWEB) July 22, 2010
The Folds of Honor Foundation, which provides scholarships for the families of military service members killed or severely wounded in service to our nation, today announced a drive to recruit votes in the American Express/Take Part "Members Project" program, in an effort to secure part of $1,000,000 in grants from American Express.
The effort, dubbed "Forward for Folds of Honor," asks supporters to log onto the American Express "Members Project" website and vote for the Folds of Honor Foundation once a week through August 22, 2010, then forward their vote to their family, friends and colleagues and urge them to vote as well.
"Here's a perfect way for people to support the Folds of Honor and the work we do right from their computers and it doesn't cost a thing," said Dan Rooney, Founder of the Folds of Honor and PGA Professional. "Our mission is to raise funds to provide scholarships for family members of our heroes who have been killed or disabled in combat. We are filling a gap in our system that ensures that no one gets left behind when it comes to education."
Folds of Honor supporters can access the American Express "Take Part" website by clicking on http://www.takepart.com/groups/folds-of-honor-foundation/54073 and following the instructions to register their vote. Supporters can vote once a week, every week, through August 22. Visitors with Facebook pages can login via the social network plugin on the "Take Part" site and then cast their vote.
"The Folds of Honor Foundation will make my children's dreams of a college education possible," said Ginger Gilbert Ravella, widow of Air Force Maj. Troy Gilbert, who was killed in Iraq in November 2006. "Without the Folds of Honor Scholarships, my children's dreams of a college education would have died with their dad. To be able to help give other children this same opportunity is something everyone can support with a simple click of their computer mouse."
For more information, visit http://www.takepart.com/groups/folds-of-honor-foundation/54073.
About the Folds of Honor Foundation:
Folds of Honor Foundation was founded in May 2007 by Major Dan Rooney, an F-16 Fighter Pilot, PGA Professional, and USGA member. A decorated military pilot in the Oklahoma Air National Guard, Major Rooney has served three combat tours in Iraq. It was after his second tour, while a passenger on a commercial flight, that Major Rooney witnessed an event that would profoundly change his life. As the plane landed, the pilot announced, "Ladies and gentlemen, we have an American hero on board – Corporal Brock Bucklin. And his twin brother, Corporal Brad Bucklin, is accompanying him home from Iraq. As a sign of respect, please remain seated while Corporal Bucklin's family receives him in his final homecoming." Major Rooney watched through the window of the plane as the flag-draped casket was lowered. He saw a family waiting for Brock, and a little four-year old boy waiting for his father. This tragic homecoming inspired Major Rooney to create the Folds of Honor Foundation.
The Foundation's signature fundraiser is the annual Patriot Golf Day, held at thousands of participating golf courses over Labor Day Weekend, which raises money for scholarships for the families of military members killed or disabled in service to their country. Over the past three years, Patriot Golf Day events have raised more than $5.4 million and Folds of Honor has awarded more than 1,100 scholarships.
###