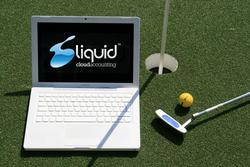 (PRWeb UK) July 22, 2010
CASE STUDY
Flix Golf
About Flix Golf...
Based in Garton-on-the-Wolds in East Yorkshire, Flix Golf was set-up by Glen Witheford, Ewan Davidson, Tom Armitage and Rob Woolhouse, who between them have over 40 years experience in the golf market. Using this expert industry knowledge, they have developed a range of innovative, cutting edge design golf products.
Flix design and distribute their product, the 'Flix Lite' divot repairer, to golf clubs throughout the UK and use agents to distribute their products to countries including France, Canada, Australia and USA.
Flix have spent the last 6 months developing their idea and improving the look and usability of their product. They can also add any logo to their market-leading product to personalise it, using top of the range design equipment.
Liquid & Flix Golf...
Flix decided to use Liquid after moving from Sage, and have been using the award winning application since 2009.
The main reason for this switch being that they have clients and staff located around the country, who all need access to the company accounts from different locations.
As Sage is offline and can only be viewed on one computer system, Flix felt that they needed an online service with different user accounts for different members of staff – which Liquid offers.
Another draw factor for Flix was Liquid's multi-currency function, allowing them to process payments from distribution agents based in the USA and around Europe.
"There are many reasons why we chose Liquid's online accounting package. We needed an accounts package that could be accessed anywhere by anyone within the company - and with Liquid's online accounting software, we are able to do this.
As a growing business, we felt that we needed an accounting package that could grow with us. With Liquid's software, we are able to choose the applications that we need, whereas with Sage, we were paying for things that we would never use.
A key strength of Liquid Accounts' software is the usability aspect. Liquid cleverly cuts out the jargon, making it easy for non-accountants to use, without the need for expert accounting advice. The setup and layout of the package is very user-friendly and makes doing the accounts much simpler and stress-free.
Liquid always listen to what the customer wants and, as they grow, they continually improve the application, improving usability for both accountants and non-accountants.
Liquid spend time with you as an individual and listen to the needs of your business - they then aim to meet your specific business needs by building an accounting package that will work for you."
Lucy Witheford, Flix Golf
Notes to Editor:
Liquid Accounts Ltd is an online developer and vendor of accounting software using the Software as a service (SaaS) model. SaaS is a component of the 'Cloud' which facilitates the use of third party servers over the internet in a 'pay-as-you-go' way. The benefits of SaaS to business being no large capital outlay; no on-site servers or internal IT expertise required; no upgrade/compatibility issues; no backups or security required; no up-front/long term commitments; and no hidden costs.
Pre-investment the Liquid had already gained industry wide acclaim; featuring in the Institute of Chartered Accountants' Guide to Online Accounting, earning glowing reviews from specialist groups like AccountingWeb, and winning several high profile awards including Best Web-Hosted Accounting Software and runner-up for Best Small Business Accounting Software at the Software Satisfaction Awards. MD, Matt Holmes is a recognised expert in the field of online software and is Chair of the Cloud Computing Special Interest Group for the Software Developers' Association (BASDA).
For further information about Liquid Accounts or this specific story, please contact:
Lisa Kendrick
0845 450 7304
Lisa(dot)kendrick(at)liquidaccounts(dot)net
# # #