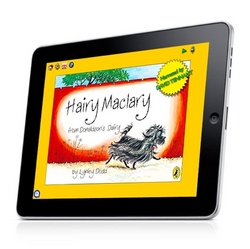 Learning to read your favorite book like Hairy Maclary by simply touching the text is so intuitive
(PRWEB) July 23, 2010
Hairy Maclary from Donaldson's Dairy the celebrated children's classic, which has sold over 1.5m copies worldwide, is about to reach a new generation of readers. The QBook revolution offers young readers a new way to experience their favorite books on the iPad.
Kiwa Media have been working in partnership with publishers to prepare and migrate their children's books to the iPad for a global audience. The release of Hairy Maclary from Donaldson's Dairy on the iPad marks another significant move for Penguin NZ as they adapt and embrace digital publishing.
'The iPad offers us a chance to share this wonderful book in a new way,' says Jeff Atkinson, General Manager Penguin NZ.
'We know Hairy Maclary is such an iconic Kiwi book and now we can offer a reading experience that is fully interactive, yet we can remain faithful to the original book.'
The QBook format has some unique features including touchable text and the ability to colour-in each page. Hairy Maclary from Donaldson's Dairy is narrated by David Tennant, famous for his role in Dr. Who, but the QBook format also allows users to record their own version of the story.
'Digital publishing is changing the way people read,' say Roger Shakes, Vice President Business Development, Kiwa Media.
'QBook is all about bringing children's books to life on the iPad. Kids love to explore and touch everything. Learning to read your favorite book like Hairy Maclary by simply touching the text is so intuitive.'
Kiwa Media are currently exhibiting at the Hong Kong Book Fair where multiple languages including Traditional and Simplified Chinese have been added to the QBook language options.
###