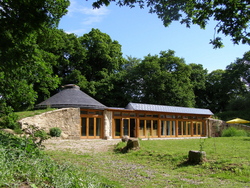 if this house is an exemplar, its not just about sustainable construction, as perhaps the way we should living - Kevin McCloud, Grand Designs
(PRWEB) July 23, 2010
Low Carbon innovator CLEVEL today confirmed that the first Groundhouse, built in Brittany, France, has achieved comfortable temperatures averaging 19.2 degrees during its first year of occupation. Its passive solar design and super insulation coupled with solar power make it a natural building that achieves 21st century zero carbon performance. A unique combination of natural style and modern eco technology.
The new home is providing a comfortable year round temperature with only a small top up in winter from wood - this massive carbon saving for space heating is taken further with solar electric and solar hot water, making the Groundhouse a zero carbon natural home.
The Brittany Groundhouse is the result of founder director Daren Howarth's commitment to the adaptation of earthship designs to the european climate. Working with Michael Reynolds in the US and a team of engineers, architects and builders in the UK, the Groundhouse design incorporates the tried and tested rammed earth earthship wall construction and biotecture principles with an operable glass face, and water based solar gain into the massive earth construction. The use of natural and salvaged materials is extensive in the design, including a designer kitchen from hardwood sea defences, bottle walls and limestone floors from quarry offcuts.
The project is attracting attention around the world and Howarth's home has been filmed for the UK's Channel 4 programme Grand Designs and for France's Channel 5.
###