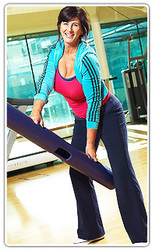 ViPR provides a variety of workout options, teaching the body to work in an effective way both in and out of the gym
(PRWeb UK) July 22, 2010
It may look like a humble rubber tube but the appearance of this new piece of gym equipment can be deceptive. ViPR - which stands for Vitality, Performance and Reconditioning - is an effective piece of gym kit set to take health clubs at Virgin Active, the UK's most innovative and exciting health club brand, by storm.
Fitness centre members at Virgin Active Health Clubs have become hooked on the likes of swiss balls and BOSU balls in recent years, and ViPR stands to be no exception to the rule that gym floor fitness really is great fun. The seemingly simple moulded rubber tube is available in seven weights (4-20kg) and can be carried, dragged, thrown, rolled, stepped on and flipped. Low maintenance, highly effective.
As per the already famous gym floor favourites of Virgin Active Health Clubs such as Kettlebells, stability ball and medicine ball, the extremely functional ViPR provides your body with a total gym workout in just one piece of equipment. Its core offering is to burn calories and build strength via a number of different gym exercise routines to suit health club members of all shapes, sizes, ages and genders.
The cool new concept will be introduced by Fitness Coaches and Personal Trainers to health club members at the new Virgin Active Classic Twickenham, with staff demonstrating the multitude of moves that can be achieved with the cool new gym concept.
Says Nick Hudson, National Fitness Manager for Virgin Active Health Clubs,
"At Virgin Active we pride ourselves on providing members with the latest innovation in order to keep them motivated and excited about coming to our health clubs. ViPR provides a variety of workout options, teaching the body to work in an effective way both in and out of the gym"
ViPR was created by Michol Dalcourt, renowned for his take on functional performance training. To try it for yourself, or to learn more about Virgin Active Health Clubs, just visit http://www.virginactive.co.uk
###