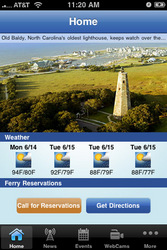 Bald Head Island, NC (Vocus) July 22, 2010
Bald Head Island Limited and Signal have teamed up to create an iPhone/iPad app that encompasses all things Bald Head Island.
The app, which can be downloaded for free from iTunes, allows users to read the latest Bald Head Island news, check current weather and forecasts, access an island map, see upcoming events, and view photos from around the island.
"The app is an ideal way to stay in touch and engaged with the Bald Head Island way of life," said Christi Golder, Director of Marketing for Bald Head Island Limited. "Whether you're exploring the island on vacation, looking for property or counting down the days until your next visit, the iPhone app lets you do it all from your mobile device."
Signal, a creative communications agency with offices in Wilmington, designed and built the app. "Mobile devices have outpaced all other forms of media today, including computers, and they are becoming the number one means of accessing the Internet," said Jim Ellis, Director of Business Development for Signal. "We're dedicated to helping our clients define and execute their mobile strategies."
To download the app, go to iTunes and search for "Bald Head Island."
Signal is a creative communications agency based in Raleigh and Wilmington, North Carolina and Nashville, Tennessee. To learn more about Signal, visit http://www.signalinc.com.
Bald Head Island is a second home and vacation community located just off the coast of Southport, NC that does not allow cars. With no bridge connecting the island to the mainland, visitors take a 20-minute ferry ride across the Cape Fear. Once on island, the favored method of transport is electric cart, bicycle, or walking. Of the island's 12,000 acres, 10,000 have been permanently preserved and will never be developed. To learn more about Bald Head Island, visit http://www.baldheadisland.com.
###