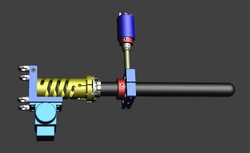 The new ultrasonic generator with a Sialon sonotrode is able to wet all inclusions in minutes resulting in a 10 times higher theoretical density.
(PRWEB) July 23, 2010
ALUPRO-MPI Ultrasonics Inc. has developed a new technology that applies high power ultrasonic energy to large, heavy irregular mass or un-tuned mechanical systems such as extruder, drawing die, mould tools, metal melt mixer, continuous casting, homogenizing, degassing with using a sialon (silicon nitride) sonotrode, alloying, very fine and homogenous micro-crystallization, sintering, etc.
Innovative Aspects:
Development of a new ultrasonic electronics and a system feedback concept that allows real-time adaptation to continuously evolving acoustic conditions. Capability to ultrasonically drive any arbitrary shape or large mechanical system at high energy if needed- Ultrasonic driving of system harmonics and subharmonics gives a wideband multi-frequency effect that improves stimulation of the system. Elimination of ultrasonic standing waves gives uniform treatment of material.
Our company is looking for partners who are willing to invest in the manufacturing of a new ultrasonic degassing box for the molten aluminum industry.
###