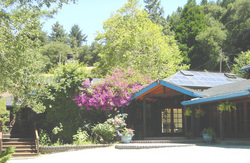 Venture Valley provides extraordinary space for learning and transformation
Corralitos, CA (PRWEB) July 26, 2010
Ms. Lalita Salas, protégé of the globally respected Dr. Ann Wigmore, along with other colleagues from the Ann Wigmore Institute (AWI) in Puerto Rico, will be conducting a 4-day Living Foods educational conference, August 19-22, 2010, at the Venture Valley Meeting and Event Center in the Santa Cruz Mountains. Attendees will learn about the benefits of living foods, participate in daily yoga classes, and attend seminars about health, wellness and living foods meal preparation.
"When we decided to conduct our conference in the United States, we obviously had a wide variety of event sites to choose from all over the country," says Winifert Lawson-Graves, Vice President of Marketing & Development at AWI. "But once we visited Venture Valley, and toured their beautiful grounds, and saw their overnight accommodations, meeting facilities, and professional-grade culinary kitchen, we knew this had to be our event's location."
Venture Valley is an all inclusive meeting and event facility located on 50 acres of redwood forest above Monterey Bay. The property offers: A variety of equipped meeting rooms; 15 guest rooms; swimming pool; hot sub and sauna; on-site catering services staffed by culinary experts; a large guest dining hall; decks/patios for gatherings and dining outside; and a spacious kitchen, filled with new professional equipment and appliances.
"We are delighted to have this prestigious group at our facility. They've recently started marketing their event and already inquiries are coming in from all over the U.S.," shares Bonnie Wendt, Owner of Venture Valley. "A majority of the clients who book our property are corporations, professional associations, or individuals (such as professional speakers, trainers, chefs, etc.) from the U.S. So it's wonderful to see the reputation of our unique facility starting to attract clients like AWI from abroad!"
To learn more about this upcoming event in August, "Gateway to a Healthier You: Ann Wigmore Introduction to a Living Foods Lifestyle™," visit: http://www.AnnWigmore.org/gateway or call
1-787-868-6307 x: 31. Space is limited.
For information about the Venture Valley Meeting and Event Center, and to inquire about having your next event there, visit: http://www.VentureValley.com or call 1-831-761-9940.
About the Ann Wigmore Institute: The health and healing benefits of a lifestyle rich in living foods are numerous. Dr. Ann Wigmore, a pioneer in living foods, recognized the healing powers of eating uncooked foods. Thousands of individuals from around the world, suffering from diseases and chronic illnesses, and those seeking a healthier lifestyle, have visited the Ann Wigmore Institute in Puerto Rico to learn about the teachings of Dr. Ann Wigmore.
###