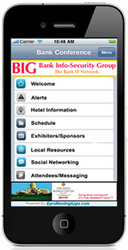 Boca Raton, FL (PRWEB) July 23, 2010
E-proDirect, a leader in marketing products and services for the hospitality and meetings industry, is excited to announce an upgrade to their smartphone application for the meetings and events industry. E-proDirect has developed an enhanced solution from their original product, My Mobile Meetings. Under the new brand, EproMeetingApps, this smartphone application offers several new features, functionality, and design. EproMeetingApps has been specifically developed and designed for associations, corporations, event organizers, hotels and resorts, and CVBs. EproMeetingApps is a customized mobile application that generates sponsorship revenue while enhancing the meetings and events experience.
This state-of-the-art technology supports multiple platforms including Apple iPhone, Google Android, RIM Blackberry, and Windows Mobile devices. In addition, this technology offers the ability to convert the Smartphone application to a mobile website and can be used on any mobile phone with web access. This technology will position E-proDirect as the leader in Smartphone applications for the industry as this mobile solution will offer the ability to reach the maximum number of attendees and increase engagement of those attendees.
With this new technology organizations can easily keep attendees connected and informed by delivering custom content tailored to their meeting or event, including but not limited to, hotel information, schedule of events, detailed exhibitor information, local area resources, real-time updates and alerts, access and communication among attendees, and will even directly connect users to the event's social networking sites, such as Facebook and Twitter. A few other exciting new features include:

The ability to allow the attendee to save an agenda event into their calendar and receive reminder alerts as the time for the event approaches.
Functionality to "favorite" an exhibitor, attendee or local area resource for reference or download into the phone's address book.
Access to detailed information on meeting sessions including speaker bios and the ability to read a .pdf of the session's handouts.
The ability for attendees to network with one another.
E-proDirect has also developed an easy to use dashboard that will allow the event organizers to manage their mobile application. This dashboard gives the ability to quickly update information and send alerts in real time.
EproMeetingApps will also assist organizations in their ongoing commitment to develop and execute a "Go Green" program for their meetings and events. Attendees will no longer need to print agendas and other conference information. Meeting Planners can scale back on the costs involved with developing and dispersing printed materials for meeting and events.
EproMeetingsApps was developed to offer the industry an easy-to-use platform that can be customized for meetings and events ranging from small meetings with 10 attendees, to larger citywide conventions and functions. What sets them apart from the competition is their cutting-edge cloning technology and other rich media applications, including ad rotator software.
To view additional features and learn how to monetize your meetings, visit http://www.EproMeetingApps.com.
To learn more about how to enhance your next event, keep your attendees connected and engaged, generate significant revenue, and even contribute to your "green" efforts to make meetings more environmentally friendly, sign up today for one of our free demo webinars.
E-proDirect is a full service direct marketing and lead generation firm targeting the Meetings, Incentives, Conventions and Events segments of the hospitality industry. Marketing services include complete:

Email and postal mail campaign management
MeetingMart.com, a website to gain additional online presence to our database of Meeting Planners
EproMeetingApps, an easy to use mobile application for iPhones, Blackberrys and other smartphones that enables you to monetize your meetings and events
For more information on E-proDirect or any products offered by E-proDirect, contact E-proDirect, 1651 NW 1st Court, Boca Raton, FL 33432, phone (561) 417-5513; fax (561) 362-8823, or visit the websites at:
http://www.EproDirect.com
http://www.MeetingMart.com
http://www.EproMeetingApps.com
###