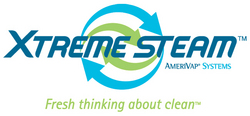 Dawsonville, GA (Vocus) July 23, 2010
Amerivap Systems Inc. received the BEST in baking designation from Snack Foods and wholesale bakery magazine in anticipation of the upcoming IBIE trade show in Las Vegas September 26-29. This designation recognizes companies in the baking industry that contribute significantly towards environmental sustainability.
Further, the vision is to recognize suppliers that foster energy conservation, reduced water usage, a decrease in landfill waste, healthy living and/ or a reduction of the overall impact on the environment.
Amerivap Systems has been a pioneer in the chemical-free, dry-steam-vapor cleaning industry for 20 years. Its line of industrial steam cleaners,Xtreme Steam, along with available attachments, notably the Houdini conveyor belt cleaner, solves cleaning solutions in any industry that looks to achieve maximum cleaning results while at the same time addressing concerns about Eco-friendly cleaning, and waste water management.
How?

The Xtreme steam lines of cleaners effectively kill harmful pathogenic bacteria using no chemicals whatsoever.
No chemicals means no chemical expense, no chemical residue, no MSDS tracking.
No chemicals also means no shipping costs associated with chemicals (and the costly consumption of fossil fuels associated with their production), and no cardboard boxes and shipping containers to be disposed of.
Since the Xtreme Steam line dry vapor cleaners use only quarts of water, unlike water-consuming pressure washers, wastewater is drastically reduced as are bod5 values, saving on rising water treatment costs.
Amerivap Systems is committed to delivering eco-friendly, fully sustainable cleaning solutions to industries as diverse as hotels to food packaging to wineries and breweries. Please visit us at http://www.amerivap.com/cat-19-1-1/Industrial.htm.
###