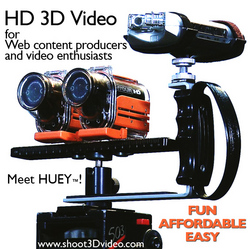 FYI: The Research company Displaybank predicts the global market for 3D TVs will be worth US$1 billion in 2010, rising sharply to $16 billion in 2015.
Granada Hills, CA (PRWEB) July 28, 2010
While Hollywood crackles with huge-budget 3D blockbusters, an affordable HD 3D video solution for everyone else has arrived. For web producers, filmmakers and video enthusiasts comes a HD 3D camera system that makes dazzling HD 3D video for entertainment, business or just for fun.
Backing up his HD 3D camera system with a personal touch is Chuck Cirino, an award-winning producer/director who developed HUEY™ with a purpose in mind. "While all the Hollywood blockbusters are releasing in 3D I'd like to bring this technology to the people, everyone should have a pair of 3D (red/blue) glasses by their computer," says Chuck.
Chuck sees the HUEY™ HD 3D video unit as a useful tool for independent creative producers who are looking to expand their art, not to mention industrial, wedding and event videographers adding a new service to their bag of tricks, and finally the video enthusiast (of any age) who loves to post on YouTube and other web video publishers. The HUEY HD 3D video system is for anyone who wants to be on the cutting edge of today's technology.
"Shooting and editing HD 3D video for small productions or on the Internet is NOT a deep and mysterious venture into high technology," says Chuck. "This is for the the person or company who is already running standard software like Final Cut Pro and Adobe After Effects on a Mac. Or Vegas or Adobe Premier with After Effects on a PC. The 3D post production work-flow is simple and intuitive. It's easy, creative and fun, I'll map it all out for you," promises Chuck.
For more information, or to order a HUEY™ unit, or to get a free pair of 3D anaglyph (red/blue) glasses see the link at the bottom of the page at SHOOT3DVIDEO.COM
###