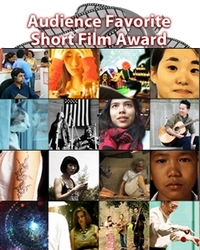 "With this brand new online contest to find the 'next Ang Lee', DramaFever has the rare opportunity to help emerging filmmakers share their work with hundreds of thousands film fans instantly," -- David Hou, Vice President, DramaFever.
New York, NY (PRWEB) July 26, 2010
Today, DramaFever.com and Asian Cinevision (ACV) announced the creation of a brand new eight-week online short film festival and audience favorite award contest to find the next break-out Asian filmmaker. Running today through 12 noon Eastern on September 6, the "DramaFever Audience Favorite Short Film Award" festival and contest is designed to expose 20 emerging filmmakers of select AAIIFF screened film shorts from USA, Australia, Canada, China, Japan, Singapore, South Korea and Taiwan. The winner will be announced September 15 and have their work featured on DramaFever.com's front page for one week.
DramaFever.com will host the contest and festival on a dedicated DramaFever-ACV Festival page at http://www.DramaFever.com/ACV.
DramaFever, the leading video website for mainstream English-speaking U.S. online audiences interested in the best of entertainment from Asia and Asian-Americans and ACV, presenters of the Asian American International Film Festival (AAIIFF formed a partnership, which effectively extends the reach of the AAIIFF. The AAIIFF is the first and longest-running Asian film festival in America and takes place in New York theaters every summer.
"With this brand new online contest to find the 'next Ang Lee', DramaFever has the rare opportunity to help emerging filmmakers share their work with hundreds of thousands film fans instantly," says David Hou, vice president of DramaFever. "Typically, directors spend years to have their film screen in dozens of theaters on the festival circuit for one or two days, and this partnership with ACV frees film makers from traditional limitations."
The corresponding online film festival to the contest marks DramaFever's move toward becoming a major U.S. distribution platform for film festivals introducing productions from Asia and Asian Americans to English-speaking audiences. Drawing over 70% of its audience from non-Asian audiences, the online website signed Toyota as its first major American sponsor/advertiser, which found the contest particularly attractive. DramaFever's online audience got a 20% bump of over 50,000 more viewers in July alone. DramaFever recently launched a show page on Hulu.com.
"Working with DramaFever at a time of its growth and in time for our 33rd year of the Asian American International Film Festival (AAIIFF'10), we extend the exposure window beyond the annual festival and the subsequent National Festival Tour to a larger audience share," says ACV's Acting Director John Woo.
ACV sees the content deal and contest with DramaFever true to its mission "to exhibit, promote and preserve the media work by artists of Asian descent or about the Asian experience." Filmmakers and productions screened at the AAIIFF, which takes place in New York each year, then gain greater in-theater exposure across America through the ACV National Festival Tour.
HOW THE DRAMAFEVER "AUDIENCE FAVORITE SHORT FILM AWARD " CONTEST WORKS:
People across the United States can visit the dedicated festival show page (http://www.DramaFever.com/ACV) to view a selection of short films screened from AAIFF'09, including 11 narratives and eight documentaries. Anytime between now and 12 noon ET Wednesday September 6, visitors can view the shorts, ranging from three to 33 minutes in length, and vote one time only per film by clicking on either the "thumbs up" or "thumbs down" icon next to the film name. Convenient pause-and-resume features and quick registration make viewing and voting easy. The film with the most "thumbs up" on September 6 will be featured for one week on DramaFever.com's homepage and will receive publicity support from DramaFever and ACV, which will announce the winner on September 15, 2010.
THE 2010 DRAMAFEVER "AUDIENCE FAVORITE SHORT FILM AWARD" CONTENDERS
Narrative / Experimental (in alphabetical order by title)

Civilian. Director: Seaton Lin (USA) Synopsis: With the help of her psychiatrist, a woman dives deep into her inner consciousness and finds the unexpected. Runtime: 4mins
Fate Scores. Director: Albert M. Chan (Canada) Synopsis: A concrete bench sees fate working in mysterious ways: a pregnant woman finds the pickle she craves, two quarreling women share a laugh, and a musician connects with a young woman. Runtime: 10mins
Once. Director: YuYing Chien (USA) Synopsis: Stop motion and stunning sets are ironically the source of life in this playful short about the hidden vibrancy of a single moment. Runtime: 3 mins
Red Yellow and Blue. Director: Changhee Chan (South Korea/USA) Synopsis: The childhood memories of a Korean American adoptee spring to life as they are reimagined and presented as a series of theatrical performances. Runtime: 14 mins
Tatang. Director: Jean Paolo "Nico" Hernandez (China) Synopsis: In the streets of the Philippines, a young girl and her grandpa make their ends meet by pick pocketing, until tragedy strikes. Runtime: 17 mins
The Call Center. Director: Rumana Huq (USA) Synopsis: "The Office" is outsourced to Mumbai in this mockumentary on a telecommunications call center in India. Runtime: 14 mins
The Eighteenth Birthday Party. Director: Ching- Shen Chuang (Taiwan) Synopsis: A daughter, no longer able to shoulder her father's obsessive love, chooses to defy him on the occasion of her 18th birthday. Runtime: 20 mins
The Perfect Woman. Director: Anthony Ma (USA) Synopsis: Deep within the jungle is a tribe of beautiful women. One boy's accidental discovery of this secret village leads to a horrific realization. Runtime: 25 mins
Walking While Sleeping. Director: Han Lee (Taiwan) Synopsis: Two dreamlike narratives entwine as paths cross between girl and cat, man and stranger. Unraveling the threads, however, does little to tie up loose ends. Runtime: 11 mins
Documentaries (in alphabetical order by title)
A Song For Ourselves. Director: Tadashi Nakamura (USA) Synopsis: A moving tribute to pioneering singer and activist Chris Iijima. Runtime: 33 mins
Aquarium. Director: Motoko Shimizu (Australia) Synopsis: A mother's inability to cope with breakup forces her into unspeakable acts of violence in this reversed Oedipal tale about heartache and self-awakening. Runtime: 11 mins
Ayi's Story. Director: Iemi Hernandex-Kim (USA) Synopsis: Ayi documents her trip from Brooklyn to China. Her trip takes her from the modern skyscrapers of Hong Kong to the isolated villages in Tibet. Runtime: 24 mins
Crossing Midnight. Director: Kim Snyder (USA) Runtime: 29 mins
I Want To Be Desi 2. Director: Allan Tong (Canada) Synopsis: The word "Desi" may mean "of the country," but through conversation with the Desi community, filmmaker Allan Tong discovers just how easily this concept breaks free of conventional boundaries. Runtime: 6 mins
No Joke Burma. Director: Li-Anne Huang (Singapore) Synopsis: Imprisoned in the past and currently under house arrest, three men known as the Mustache Brothers eke out a living as comic performers and set their sights on the eventuality of freedom. Runtime: 12 mins
State of Yo. Director: Jason Karma (Canada) Synopsis: Harvey Lowe was the world's first yo-yo champion, having won the title in 1932. Years later, he finds that his passion for the sport remains an important part of his life. Runtime: 8 mins
Waiting for a Train. Director: Oscar Bucher (USA) Synopsis: Toshio Hirano left his home in Japan to pursue his dream in Appalachian mountain country, singing bluegrass by the railroad tracks. Runtime: 20 mins
You Can Call Me Nikkie. Director: Irene Herrera (Japan) Synopsis: Identity is not always the subject of doubt. Nikkie, a transsexual sex worker, recounts the sculpting of her identity with an audacious trust in her true self. Runtime: 7 mins
ABOUT DRAMAFEVER.COM
Privately-held online video content distribution company, DramaFever.com was launched in New York in August 2009 by co-founders Suk Park and Seung Bak with the mission of making the best of Asian programming available to English-speaking American and Canadian audiences. Drawing on their experience in media, publishing and finance, DramaFever establishes licensing deals with the leading Asian networks to stream select titles in high quality with English subtitles or dubbing. DramaFever.com users can watch videos for free or pay just $4.99 per month for premium membership, which includes uninterrupted advertising-free programming, access to exclusive content and other advanced features. All subscribers can also participate in discussions, rate shows, request programs, sign up for show alerts and get the latest news on trends and developments in Asian drama, celebrities, and entertainment. As of April 2010, the company has deals to stream over 100 titles representing 5,000 hours of content, spanning all genres of media and storytelling beginning with television hit series from Korea, including suspense thrillers, historical dramas, romantic comedies and documentaries. Film, music video, reality television and other programming will be added each month, along with content from other countries. By the end of 2010, subscribers will be able to watch videos on DramaFever.com across multiple platforms. To learn more, visit http://www.DramaFever.com.
ABOUT ASIAN CINEVISION
Asian CineVision, Inc. (ACV) is a not-for-profit national media arts organization dedicated to the exhibition, promotion and preservation of Asian and Asian American media expressions. Founded in 1976 ACV presents films and video programs about the experience and culture of Asian and Asian American communities and provides consultation and technical assistance for artists, cultural and media organizations, publishes works, organizes seminars, conferences and workshops. For nearly 34 years, ACV has provided program services to filmmakers including the annual Asian American International Film Festival (AAIFF), the oldest and longest-running film festival in the U.S. bringing Asian and Asian American media to wider audiences. ACV also presents the National Festival Tour traveling the best of the recent AAIFF to underserved communities around the U.S., media-production services for independent artists and producers, a print and media archive, and a variety of training workshops.
###