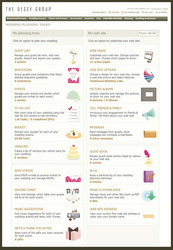 With the addition of the Wedding Planning Tools, Dessy has become a true player in the wedding planning space on the web. We can now provide our brides with a very rich experience without ever having to leave Dessy.com.
New York, NY (PRWEB) July 26, 2010
Dessy's Wedding Planning Tools is the perfect way to organize all aspects of a wedding in a seamless and timely manner and create a custom wedding website, allowing for easy-to-understand set up and management. Dessy.com's features help everything remain in order during this exciting and hectic time for the newly engaged couple. As any special occasion would have it, there is a variety of coordination involved when planning for a wedding. From the guest list and rsvps, to-do list, budget, seating chart, to keeping track of gifts and thank you notes, Dessy will help the happy couple do it all. Wedding Planning Tools will even assist with music suggestions which can be listened to with ITunes!
Keeping friends and family involved and up to date about the big day is essential and creating a wedding website is the answer. With an extensive range of design options and customizable web pages, Dessy's Wedding Planning Tools options are limitless when building the site and allow a couple to express personality and style. Start up is easy with the provided domain name or the option of purchasing one, and for those who are HTML savvy, manually coding the pages is also available. Various themes, colors and fonts are presented in Wedding Planning Tools so the content on each web page is edited to one's liking. Instead of rushing to complete the site all at once, one can add any number of web pages at any time allowing for a convenient build out of a site. Within these pages, uploaded images are sorted and organized for editing using an assortment of tools, and custom photos can be chosen to display on the site. Also helping to evoke the mood and spirit of a couple, the addition of music downloads help contribute to the overall experience, further personalizing the website.
Since not every guest knows the full story of how a couple met or where the proposal took place, Dessy's Wedding Planning Tools offers a "Bride and Groom" section where these stories can be displayed. Introductions to the wedding party can also be included with stories, images and descriptions of each bridesmaid and groomsman. To further interact with guests, the bride and groom can keep a blog on the website to personalize the journey by unfolding the days up to the wedding or install an actual count down timer on the site leading up to taking the plunge! Staying true to the idea of keeping the planning and organizing in one place, Wedding Planning Tools allows for the addition of events to the site such as bachelorette/bachelor parties, bridal showers, engagement parties, rehearsal dinners and more. The information for each of these can be available to guests that are selected for each specific event, so one is not restricted to only planning for the ceremony.
With the launch of Wedding Planning Tools, dessy.com is the only "one-stop shopping" wedding site that allows brides to plan their wedding and create a personalized wedding site, select and purchase bridal wear & accessories, purchase unique wedding stationary through Wedding Paper Divas, and color coordinate their entire wedding's with Pantone Wedding, a collection of color tools that includes the Pantone Wedding color guide, the ultimate color reference tool for brides and wedding planners.
About The Dessy Group:
The Dessy Group is a leading manufacturer of bridesmaid dresses, social occasion dresses, flower girl dresses and destination wedding gowns under the labels Dessy Collection, Cynthia Rowley Bridesmaids, After Six, Alfred Sung, Lela Rose Bridesmaid and Sandals Destination Wedding Dresses. Founded in 1939 by Margot Rosenthal, A & M Rosenthal, now The Dessy Group, got its start designing bridal veils and attendants' headpieces. In the 1950s, Margot's daughter Ronnie and her husband Andrew took over the business and added bridesmaid dresses to the Dessy line. Today, the business continues to thrive under the leadership of Alan Dessy and design direction of Vivian Dessy Diamond.
For more information about The Dessy Group, please visit http://www.dessy.com.
###