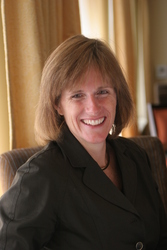 "Being nominated for this award has been a huge compliment and validation of my belief in helping others succeed," says Ms. Pease.
Sudbury, MA (PRWEB) July 27, 2010
Wendy Pease, Owner and Executive Director of Rapport International LLC, a woman–owned, full-service translation and interpretation company is nominated for a 2010 International Femtor Award (http://www.femtorawards.org) presented by eWomenNetwork, an international businesswomen's organization. This international award recognizes and honors a businesswoman who has consistently gone out of her way to help others succeed. The winner will be the consummate connector who unselfishly looks out for the business needs of others.
As Executive Director of Rapport International, Ms. Pease is able to combine her love of connecting people through networking and her fondness for languages and cultures. Ms. Pease is passionate about her work and enjoys figuring out the best way to handle the translation process to ensure the highest quality project. In addition, she looks for opportunities to connect other business owners to potential clients or resources. Last year, she was recognized for her contributions to the State of MA Affirmative Market Program for her commitment to minority and women business entrepreneurs.
"I have always encouraged people who want to own their own business to give it a try – I've helped with marketing plans, business analysis, compensation packages, and time management. I get a thrill from seeing people succeed," explains Ms. Pease.
Ms. Pease is an expert and regularly speaks on translation, interpretation, global business, languages of the world and cultural diversity. She is able to guide her customers through the maze of multi-lingual communications and establishing best practices for managing the communications. In addition, she has a wealth of knowledge and speaking experience in the areas of buying a business, pursuing your dreams, and balancing work and family life.
Based in metro-west Boston, Massachusetts, Rapport International provides precise, professional translation services in over 100 languages. Through expertise and dedication to quality, Rapport provides the highest quality linguists to meet each project's needs. Rapport develops long-term, successful relationships with clients such as Learning Curve Brands, Wellington Management, and the State of MA among others, by handling their foreign language communications effectively and cost-efficiently. Along with extensive translation experience, Rapport translators have advanced degrees and training in the appropriate commercial, industrial or technical fields. Some areas of expertise include: medical, legal, technical & manufacturing, financial, consumer products, and foreign language desktop publishing. For more information, visit http://www.rapportintl.com.
The eWomenNetwork present Femtor awards to women excelling in the following categories: Business Matchmaker, Emerging Leader, Humanitarian Efforts, Made It to a Million, and Lifetime Achievement. A registered trademark of eWomenNetwork, the term Femtor means "a wise and trusted woman providing knowledge, inspiration and practical information to other women." Femtor acknowledges the mentoring work done from a female experience and knowledge base. These experienced women seek out ways to teach, share their wisdom and help other women find their wings. The awards are presented during the Foundation's International Femtor Awards Ceremony on the opening night of the eWomenNetwork International Conference and Business Expo held annually in Dallas, Texas. This four-day event attracts more than 2,000 professional women and is the largest women's business development event of its kind in North America.
###