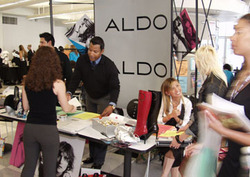 tapping into the hidden job market.
Los Angeles, CA (Vocus) July 23, 2010
FIDM/Fashion Institute of Design & Merchandising has a top notch Career Center that proves to be vitally important for students, especially in a tough economy. Not only does it offer a wealth of resources for students and alumni, but it also serves as a trustworthy place for recruiters to scout qualified talent.
Ciel Kullman, Men's Product Development Manager for Zumiez, the skate, snowboard, and surf apparel chain, trusts the quality of education of FIDM Grads. "The caliber of qualified candidates from the Career Center is truly second to none. The guess work is taken out when I hire a FIDM graduate as I know they will have a solid foundation of applicable knowledge and true industry experience, even if they're applying for their very first job!"
According to FIDM Career Center Advisor Eliza Kitsinian, it takes more than a traditional job search to land employment in today's market. Just answering want ads is not enough. The solution is "tapping into the hidden job market." Networking, internships, and utilizing FIDM faculty connections within the industry are the keys to a successful job search, all of which are fostered and encouraged at the fashion college.
Kitsinian says, "We are very big proponents of internships. Students really pull what they're learning from class directly into the work environment." It truly complements their education. The Career Center has seen a large number of students transition into full-time employment from the internships the Career Center helped facilitate.
Meghan Ahern-Schoenleben recently sent a letter to Career Advisor Angela Leavitt letting her know she's now working as Assistant Designer for LOST Clothing in Irvine. She stated, "I am a recent FIDM grad and met with you a number of times while in school. You were instrumental in helping me find an internship that has led to a career in the industry. Thank you so much for everything."
Recently, three Merchandise Product Development students also turned their internships into their first jobs. Kimberly Briskey has been interning at BCBG for the past six months, is set to graduate this September, and has already been extended a job offer as a Planner. 2010 Grad Morgan Murray, who had been interning at RVCA, just received a job offer as a Design Assistant in the Women's Department! Another graduate, Maria Napolez, just transitioned from intern to Assistant Buyer at BEBE this month.
Students benefit immensely from FIDM's established industry partnerships. GUESS Inc. has hired over 1,100 students from FIDM. CEO of GUESS Inc. Maurice Marciano serves on the FIDM Advisory Board. "Currently we have 74 graduates from FIDM working full-time for us in great positions," he said. One of them is Stephanie Hollingsworth, VP of Women's Design for GUESS Inc.
FIDM prepares its graduates for the future. In their final quarter, students have mandatory graduate meetings with a Career Advisor. Not only do they get tips on their resumes and cover letters, they receive coaching on social media and the role it plays in a professional life, as well as how to approach salary discussions and what to wear on a particular interview. Kitsinian says, "They rely on us for more than job leads. We provide the resources and the tools. We are a service."
With four dynamic California campuses, FIDM/Fashion Institute of Design & Merchandising is the premier west coast fashion design school, educating for careers in fashion design, graphic design, interior design, and entertainment. FIDM's graduates include renowned fashion designers like Monique Lhuillier, Emmy® and Academy Award® award-winning costume designers, top fashion industry executives, and entrepreneurs.
###