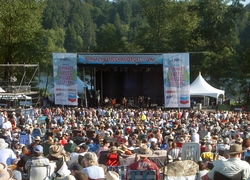 Burnaby, BC (Vocus) July 23, 2010
For those looking to extend their blues and roots experience beyond the Burnaby Blues and Roots Festival, Blues Week returns to Burnaby for its second year showcasing Burnaby music through blues and roots performances.
Blues Week, running August 11 – August 15, is a Tourism Burnaby initiative where live blues and roots performers entertain Burnaby hospitality patrons throughout the city in the days leading up to the festival. Metropolis at Metrotown has created a plaza level stage to kick things off with lunch time concerts while evening entertainment will feature music from the likes of Kenny "Blues Boss" Wayne, Lesismore and the Daily Blues Band. Local favorite acts will perform free entertainment throughout the city allowing both blues fanatics and those new to the music scene a chance to sample, compliments of Burnaby restaurants, lounges and pubs, what they will experience at the Burnaby Blues and Roots Festival.
Live blues and roots performances for Blues Week are only part of the evening experience. Blues Week allows guests to enjoy a taste of the wide range of Burnaby restaurant and dining options. Local venues such as the Hop and Vince Restaurant, Marine Pub and Great Bear pub all feature blues and roots music in a laid back, fun setting while in-hotel dining featuring live music make it easy for out-of-town guests to combine evening entertainment and the Blues and Roots festival into a weekend getaway.
Blues Week will ramp up excitement for the 11th Annual Burnaby Blues and Roots Festival at Deer Lake Park's natural amphitheatre. On August 14, Deer Lake concert goers get to enjoy music from headliner Taj Mahal, Kenny Wayne Shephard, Serena Ryder and more. The Burnaby BC festival also features food, a beer garden, artisans market for Burnaby shopping and more.
Tickets for the Burnaby Blues and Roots Festival, August 14, can be purchased online at http://www.tickets.shadbolt.com. A compete list of Blues Week performances can be found on Tourism Burnaby's Website http://www.tourismburnaby.com and are at no additional cost to your dining experience.
About Tourism Burnaby
Tourism Burnaby is a non-profit destination marketing organization whose purpose is to support tourism promotional activities in order to increase visitation to the city. As part of its mandate, Tourism Burnaby is responsible for marketing, promoting and selling the city as a site for corporate meetings, pleasure travel, cultural, sports and special events. The organization was incorporated on October 25, 2004 under the Society Act of British Columbia.
# # #