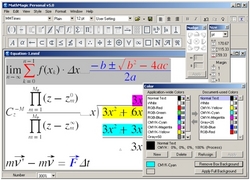 Vancouver, BC, Canada (PRWEB) July 23, 2010
InfoLogic, Inc. today is pleased to announce a special promotion, 50% off list price of their Competitive upgrade to MathMagic equation editor.
This promotion, effective immediately, offers users of any other equation editing software product the opportunity to own MathMagic, the ultimate equation editor, at a fraction of the regular price. This 1-month special offer ends August 25 2010.
Competitive upgrades to any of the following MathMagic products are eligible for this 50% off promotion.

Competitive upgrade to MathMagic Personal Edition, Regular price: US$50.00, Promotion price: US$25.00
Competitive upgrade to MathMagic Personal Edition Academic, Regular price: US$40.00, Promotion price: US$20.00
Competitive upgrade to MathMagic Pro Edition, Regular price: US$450.00, Promotion price: US$225.00
Competitive upgrade to MathMagic Pro Edition Academic, Regular price: US$300.00, Promotion price: US$150.00
All Competitive upgrades come with 2-year free upgrade and free tech support. MathMagic is available for Windows and Mac OS X.
First introduced at the 1998 San Francisco Seybold Expo, the award-winning MathMagic Series has expanded its product line into the MathMagic Personal Edition, Pro Editions for InDesign and QuarkXPress, and the customizable Prime Edition. Every solution continues to embrace the same heritage of unsurpassed equation quality.
The current versions of MathMagic are armed with various math expressions and file formats such as MathML, LaTeX, Plain TeX, Google Docs, Wiki equations, MathType equations, MS Equation Editor, EPS, PDF, PICT, JPEG, GIF, BMP, PNG, and so on. MathMagic also comes with many mathematical body text fonts, Greek fonts, and other symbol fonts.
To celebrate 12 years of MathMagic, the hard-working folks at InfoLogic wish to take this opportunity to deliver its superior equation quality and productivity to other equation editor users.
MathMagic online store offers 50% discounted price during the promotion period so coupon code is not required.
http://www.mathmagic.com/store/
This offer is for end user, and online purchasing only.
Minimum Requirements:

Mac OS X 10.4 or later, including 10.6 Snow Leopard
Windows XP or later, including Vista and 7
The superior interface and productivity of MathMagic have been selected by large publishers and university presses around the world in more than 75 countries. Professors, students, scientists, engineers, teachers and school districts rely on MathMagic for their daily math communication and publications.
The equation quality of MathMagic is specially designed to meet stringent high-end DTP requirements. MathMagic Pro Editions allow graphic designers and editors to write and edit equations directly in InDesign or QuarkXPress documents without going through the time-consuming export/import steps and formating.
About InfoLogic, Inc.
Founded in 1996, InfoLogic Inc. specializes in technical and desktop publishing (DTP), high quality digital contents, and Macintosh software development. Released in 1998, MathMagic is its flagship product. InfoLogic also ported ThinkFree Office to the Mac OS platform and released several utilities. Its copy protection solution for OpenType and TrueType fonts has been adopted by several major 2-byte font vendors in Asia.
Copyright 1996-2010 InfoLogic, Inc. All Rights Reserved. MathMagic, MathMagic Pro Edition, MathMagic Personal Edition, MathMagic Prime Edition, MathMagic Plug-ins, MathMagic XTensions, MathMagic logo, and InfoLogic are trademarks or registered trademarks of InfoLogic, Inc. All other trademarks are the property of their respective owners.
# # #