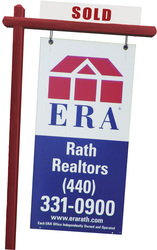 What do I mean about the difference between selling and showing well? The typical agent in this area puts the home buyer on an automatic e-mail search and waits for them to respond with a call
Rocky River, Ohio (PRWEB) July 24, 2010
For the first time in the Cleveland real estate market, there is an area Realtor who is rising above the multitude of predictable agents; one who is displaying some of the best "outside the box" thinking we have seen in a quite some time. This comes as welcome news at a decisive time, when listing inventories are rising and prices, at best stagnate, or at worse continue to plummet.
Dennis Rath, from Rocky River, has been out front in this market, warning his sellers this was coming. "Thanks to the lessons we all should have learned in these last few years, I have developed a strategy to prevent my sellers getting caught off guard again." Other agents in this area believe that the market is stabilizing, but Rath is warning his sellers just what Trulia (compiles statistics for the Real Estate industry and uncovers trends,) has reported: inventory is up and growing. "Just look at the numbers: there are 11,316 active listings in the Northern Ohio Regional Multiple listing service, and of them, 7279 will FAIL to sell. That is 64% and only 24% WILL sell?*
"In order to get the most eyes on my homes, I needed to get other Realtors back to selling homes rather than just showing homes. Just like the federal government did it with incentives for buyers to buy, I am doing it with a Realtor cash incentive." According to the National Association of Realtors, the average yearly income of a typical Realtor after expenses is $17,200.00. The United States poverty level is 22,050.00 for a family of four.*# This is another crucial reason why the real estate market still struggles today.
Rath maintains that "the key to getting your home sold lies in the ability of your Realtor to make your home stand out. Getting traffic through your front door is the result of grabbing the attention of the typical Realtor and the buying public. This can be the difference between showing well and actually selling. "
Rath goes on to opine, "What do I mean about the difference between selling and showing well? The typical agent in this area puts the home buyer on an automatic e-mail search and waits for them to respond with a call saying, ' I would like to see 123 Main Street and 456 Elm Street please'. Mr. or Ms. Realtor then sets up the appointments and often, that's all there is to it."
Until now. Now there is a system to get the Realtor back in a proactive approach to homes with the Seller Incentive Club, offered exclusively in this market by Rath. "With this program the Realtor could win a $10,000.00 cash bonus for selling a participating home in my program. Can you see how that will work for the seller and help their home stand out above the other 11,316 homes actively available, simply by grabbing the attention of the 'Typical Realtor'. (that is more than half of the money they made in all of last year by selling one of the homes in my system)"
Average buyers today look at 12 homes, which is up from 7 homes in 2007. In addition to increased traffic, another aspect of this program is increased feedback from the realtors. "The showing Realtors remember our homes and give us helpful responses about aspects of our listings. This is critical, as we constantly re-assess our strategy, allowing us to instantly adjust to market changes. Obviously, every home is not a perfect fit for every buyer. Realtors cannot force people to buy, but even in every possible purchase, any feedback is increasingly valuable. That information is vital to get it into an "as ideal as possible' position for their next buyer who might be the right buyer."
No more will your home fade into the tapestry of the market place to become just another of the 64% of homes that fail to sell. If your going to take on this market, you need to arm yourself with a Realtor that thinks out side the box and has a full supply of tools at their disposal.
Do yourself a favor and give Dennis Rath a call for a specialized consultation. You will get some straight talk along with creative marketing ideas from the Realtor who is raising the bar. He can handle every real estate transaction including estates and short sales.
*Northern Ohio Regional Multiple listing service May 2010
*# National Association of Realtors year 2010
# # #