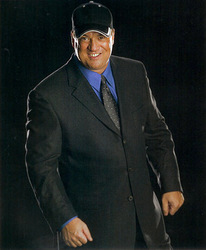 Top Cow always has one of the most anticipated panels at ComicCon
New York, NY (PRWEB) July 23, 2010
American Original and GeekWeek.com founder Jeff Katz (Producer of Snakes on a Plane, X:MEN Origins: Wolverine, Shoot 'Em Up, Freddy vs Jason, Booster Gold) announced this evening a late addition to the company's presentations at ComicCon this weekend in San Diego, as Katz has completed a deal involving sports entertainment icon and pop culture guru Paul Heyman.
Heyman will be appearing on a special edition of GeekWeek Live, streaming on http://www.GeekWeek.com and Justin.TV from the Wowio Yacht all day on Friday, including as a panelist during the "State of Geekdom" special on Friday at 7pm Eastern/4pm Pacific Time.
Heyman will also be appearing at the Top Cow panel at 1:30 pm Pacific time on Saturday to announce his new digital gaming project with American Original.
"Top Cow always has one of the most anticipated panels at ComicCon," Katz stated, "I'm personally thrilled as all hell because Paul will be up there with our partners at Top Cow including Marc Silvestri, Matt Hawkins and Filip Sablik, as well as Richard Fairgray, creator of the New Zealand hit comic "Blastosaurus."
"I've always hated the standard press statement and BS sound bite associated with hype-driven releases," Heyman (Looking For Larry Productions, former owner of ECW and head writer for WWE Smackdown) said, "I've never been to ComicCon before, and I hear it's absolutely insane. Get in a crowded space with 100,000 fanatical followers of a genre? Sounds like my type of environment!"
"I've been trying to get this together for the longest time," Katz stated, "This is an outside the box project for gaming, and Heyman's innovative approach to digital, ever since he launched The Heyman Hustle (http://www.heymanhustle.com) has established him as one of the true pioneers in the digital space."
# # #