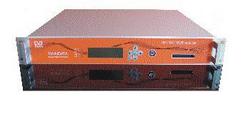 OPTISAT a perfect solution for TV programming distribution via satellite to cable networks
(PRWEB) July 25, 2010
MAINDATA supplies its last state-of-the-art custom developed OPTISAT S2/S receiver MD7320 with double DVB-S2 tuner, built in demultiplexor, PID remapping abilities, remote demux control (inbound signalling) and remote firmware upgrade ability.
Satellite distribution allows parallel DTH (direct-to-home) satellite reception by satellite home users extending geographical reach beyond cable networks.
MD7320 is equipped with double DVB-S2 tuner. MD7320 has built in demultiplexor allowing to split wide (70 Mbps) DVB-S2 satellite transport stream into multiple narrow band (25 Mbps) transport streams. Demuxed transport streams are sent via GbE IP outputs (or DVB-ASI) to cable network QAM modulators and distributed further via cable networks to cable end-users. MD7320 enables PID remapping.
Part of entire OPTISAT platform is OPTISAT NMS (network management system). NMS allows remote inbound controll of MD7320. Generated controll commands are transmitted inbound via satellite signal allowing flexible on-the-fly reconfiguration of OPTISAT receivers.
OPTISAT NMS allows remote MD7320 firmware upgrade. Receivers firmware can be also upgraded by replacing Compact Flash disk accessible from a front panel.
###