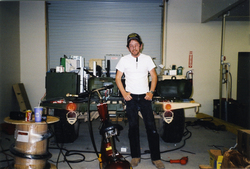 Power your home for 30 years; the system goes off only when you turn it off - I will teach you how it works.
Santa Cruz, CA (PRWEB) July 24, 2010
There are three things every individual wants: a method to lower, even possibly eliminate utility bills; lessen the drain on our world natural resources; and stop water and air pollution (greenhouse gases and CO2). Inventor Peter Paul Sumaruck's technology can remedy these three major concerns of the world today. There is no doubt that his power production system successfully produces large amounts of power - electricity without batteries, no emissions so no pollution.
Mr. Sumaruck has the technology - over 30 patents pending. Now Pete wants many, many private individuals to use this power production system, thereby changing the way power/energy is produced in the United States and Internationally. He wants to help individuals more in control of their standards of living.
Now Mr. Sumaruck will offer one day seminars in the technology of power production, given at hotels around the United States. He will be teaching his audiences, how to build a 50 kW Zero-Amp Tech power production system that will be able to power their home. Attendees of the seminars should not bring components with them. Pete is not in interested in selling generators, transmissions, etc; he is offering knowledge. Pete can suggest the best components to use but he is not trying to profit from their sales.
Attendees will not receive patent rights, and must sign a release not to adopt nor expand his technology. A seminar admission ticket (per individual, no groups, no one under 21), will give attendees blueprints and verbal instructions on the construction of a 50kW unit - they will see exactly how the unit works. Until now, this information has been secret and proprietary. This technique of information-building is a powerful and unique concept, and Peter Sumaruck is a great communicator - he is knowledgeable, but very practical, and always hands on.
Members of the audience will see and learn…and are encouraged to ask questions…they may even disagree, and say so. Some individual may champion of the physics Laws of Thermodynamics…but Mr. Sumaruck will prove gladly prove that person incorrect. The truth will be right there in front of every person, there in plain view - Peter Sumaruck demonstrates more power coming out, than going in. This defeats the long-held principle of Conservation of Energy - it is time to eliminate unnecessary scientific beliefs if they are not accurate. Refer to a previous press release on the Zero-Amp Tech. website on his increases in power. Peter Sumaruck creates power.
With his other demonstrations in the past, Pete never entirely let the secret out. Many individuals have tried to build their own units by "guessing," very amusing, but guessing does not work. No one has yet been able to duplicate Pete Sumaruck's energy production system. People are always asking, "what brand of transmission does he use; the secret must be there."…or, "it must be the computer." The world wants to know…and they will, one unit at a time.
Each seminar attendee will be able to build only 5 units after they leave the seminar (they must sign a document to that effect). Mr. Sumaruck is not working with groups who want to mass produce these power units, nor with those who want to build scalable units to power their corporate operations.
An inventor with a product - Pete Sumaruck has never been a man to favor only theories, or specialize in research. Since 1989, Pete could always show a working prototype. Generally, inventors spend years doing research; finally after much effort a prototype may appear. Pete Sumaruck is amazing - an actual inventor with a product. Also, read about Pete's prototype for the Army in 2004, http://www.worldviewopinion.com/blog/energy/_archives/2008/7/19/3800414.html and to build mobile generators (no diesel) to power the war in Iraq. The plan also involved 200 robot generators to power Baghdad Green Zone. Power outages are, to this day, a continual fact of life in all of Iraq but especially in Baghdad. With Pete's technology, the lights would be on 24/7.
But no - the project was shelved by two Texas politicians, see http://www.worldviewopinion.com/blog/energy/_archives/2008/7/19/3800414.html who preferred to build nuclear energy plants in Texas. New Energy tech was/is not welcome in this country, while lobbying is, more often than not, a highly profitable but immoral business in America.
Why does it take our government such a long time to toss out the waste and concentrate on what is truly valuable…power that can be beneficial for all Americans.
Read the many articles about Mr. Sumaruck on the internet - more articles about Peter Sumaruck than any other inventor at this time in the world today. People have taken to calling him "Tesla Jr." Pete is amused by this. Nikola Tesla did go around the country giving lectures but at that point in his life, his work seemed more theatrical - he would sit in a room, surrounded by noticeable electric energy; audiences gasped, but Tesla did not have a practical product. It would be left for future generations to make practical use his innovations for wireless technology.
The difference - Peter Sumaruck demonstrates a working product.
Sumaruck always knew he could power factories, as well as entire cities, but now he believes that the revolution to low cost power should begin with the individual home. Even the energy researcher, Kirk Miller who works for the American Petroleum Institute (API) told Pete, "build something people can use right now - power a house." Someone using a Sumaruck power system may choose not to cut the umbilical cord to their utility company entirely; they may decide just pay the minimum the utility asks. "You don't want to make them too angry."
Those attending the seminars will be part of the revolution in New Energy by building their own virgin power production system. Or maybe they might want to just go into a store and buy one, without the effort. The closest a person can come to that would be to buy one of the 5 built by from a friend or neighbor who attended a Sumaruck seminar.
Independence - America was founded by individuals with an independent streak. It has been far too many years since Americans felt truly independent. The inventor's spirit steps outside the norm; inventing is the ultimate independence - the dare to do and the dare to prove it.
Acts of Inventor suppression - Due to numerous attempts on Peter Sumaruck's life, acts of vandalism, and tampering with his equipment and personal possessions, security will be in effect at the seminar and Mr. Sumaruck will need to be convinced of the veracity of your identification. There are many States where individuals may have a permit to carry a concealed weapon. If this is the case, they will need to keep it in their vehicle.
Visibility - Mr. Sumaruck's company and his supporters believe the safest thing for his well-being and his technology is transparency. If vast numbers of people know the possibilities of his technology, certain special interest groups will not be able to stop Peter Sumaruck.
Giant photos - Visit the Zero-Amp Tech website for huge photos from recent demonstrations in April and May 2010. Here is an opportunity to be up close to a 12kW in operation, where Pete was able to greatly increase the output of energy normally expected from a 12kW. For output numbers, refer to the website section, "Objectives."
In the seminars, Mr. Sumaruck will be working with a 50kW, (photos of this size will be available soon), the unit size to power a typical American home, for 30 years. Near-proof of the system's longevity is that the 12kW in the pictures has been running since 1986. Once turned on, a unit never stops until one chooses to turn it off. Also one of the large photographs shows Pete's Classic 64 Dodge Truck, he uses as his service vehicle, to pull his enclosed trailer to seminar locations. He loves that truck for it strength and durability - how he values everything he works on.
With a $500 seminar admission ticket, to reiterate (per individual, no groups, no one under 21), attendees receive blueprints and verbal instructions on construction of a 50kW power production system. For seminar schedule locations, and further questions, go to poweron(at)zeroamptech(dot)com Or speak to the inventor at 254- 733 1354
Contact: Charlotte Wilson - Public Relations
at the website
Zero-Amp Tech. Inc. - 254- 733-1354
###