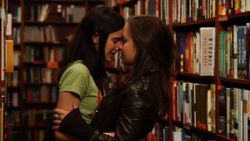 Everyone's scrambling to find a way to sustain new media.... The beauty of the web is inclusion
New York, NY (PRWEB) July 23, 2010
Webby Honoree, People's Silver Telly winner, and Streamy Award winning webseries 'Anyone but Me' will host the first ever fundraising Web-A-Thon, July 27 through July 29, to raise money for the third season. Never done before by a webseries, the Web-A-Thon will utilize the internet and social media to cultivate funds to create the third season of the original, exceptionally produced drama, important for its distinctive voice.
After two privately funded seasons, the show now needs its fans to keep the series in production, and is using an innovative fund raising, support platform to do so. By allowing its loyal viewers to go beyond just watching the series, 'Anyone but Me' is employing their fanbase to become actively involved in the survival of a show that takes an honest look at the contemporary life of young people.
Running in three parts airing July 27 – 29, the Web-A-Thon is hosted by entertainment reporter Lisa Bernhard and will feature guest appearances by the series' cast members. The show will offer brand new videos such as "The Women of ABM," and an "ABM Walking Tour," along with "revealing" interviews with the actors themselves. A portion of the proceeds will be donated to The Ali Forney Center, the largest agency dedicated to providing housing and services to homeless LGBT youth in NYC.
Through encouraged donations and an auction on ebay that includes several priceless items such as a walk-on role during the third season and a Skype call during the cast's read-through, 'Anyone but Me' hopes to meet their financial goal of $100,000 to $120,000 over the three-day event.
"Everyone's scrambling to find a way to sustain new media" says Executive Producer/Writer Susan Miller. "A subscription model was on the table for a while, but we were concerned that it would limit our our reach. The beauty of the web… is inclusion."
'Anyone but Me's' Web-A-Thon will run in three parts airing July 27 – 29 at 4:00 PM EST on AnyoneButMeSeries.com, YouTube, Hulu and Blip.tv. Donations will be accepted on AnyoneButMeSeries.com through paypal, and auction items will be available on the 'Anyone but Me' store on ebay starting Monday, July 26.
About 'Anyone but Me'
'Anyone but Me' is a Webby Honoree, People's Silver Telly winner, and Streamy Award winning web series about New York city teens coming of age in the 21st century. The series follows the diverse characters as they struggle with identity and modern relationships. Realistically portraying the complexities facing a new generation, 'Anyone but Me' speaks to issues that are often ignored in mainstream television.
###