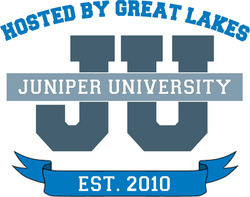 JJuniper's J-Care support can be as much as 75% less than Cisco's Smartnet.
Grand Rapids, MI (PRWEB) July 26, 2010
Great Lakes Computer, a 24-year-old billion dollar Elite Juniper Networks reseller, published its results from a side by side comparison between Juniper's EX4200 switch and Cisco's 3750 series Catalyst switches.
Juniper University is a monthly series of side by side comparisons of Juniper products to their Cisco counterparts. This is Great Lakes Computer's third installment of their Juniper University series.
2010 Juniper University Course Schedule:
May 19th - Juniper SRX vs Cisco ASA
June 15th - Juniper EX2200 vs Cisco Catalyst 2960G
July 20th - Juniper EX4200 vs Cisco Catalyst 3750G
August 17th - Juniper EX3200 vs Cisco Catalyst 3560G
September 21st - Juniper EX8200 vs Cisco Catalyst 6500
October 19th - Juniper SRX for the branch vs Legacy Cisco 3 box architecture
November 16th - Juniper JUNOS vs Cisco IOS
December 14th - Juniper J-Care vs Cisco SmartNET
GRAND FINALE - A case study of a 100% Juniper network
Juniper University: EX4200 vs. Catalyst 3750 – The results
Layer 3 stackable switch comparison
The findings are nothing less than remarkable. With prices starting at under $4,000, Juniper's EX4200 line is available in 24 and 48 port 10/100/1000 densities, both PoE and non-PoE. They also include either 1Gb or 10Gb modular uplink connectivity. Another cool feature is the standard hot swap power supplies, while most of Cisco's 3750 switches come with a single non field serviceable power supply.
Cisco's 3750G, E, and X Catalyst switches come in over 70 different models, and it can be overwhelming figuring out exactly what model to order without having to go through a myriad of technical, feature and pricing comparisons. Juniper makes it easy, offering one model with the same or better performance in several categories than all of Cisco's 3750 series switches. Better yet, Juniper's J-Care support can be as much as 75% less than Cisco's Smartnet.
One of the most important factors in choosing a Layer 3 stackable switch is the actual performance of the stack. An independent study found Juniper's EX4200 Latency is always lower when the switches are in a Virtual Chassis configuration. Coincidently enough, Cisco doesn't publish latency rates of their stackable solution. Virtual Chassis configurations recover from hardware and software failures in milliseconds and operate at 30-Gbit/s rates in each direction between switches.
So in a side by side comparison between the Juniper EX4200 and the Cisco 3750G, E and X, it was no contest. We chose the Juniper EX4200. The savings offered by Juniper Networks are just the beginning. From now through September 30, you can get great discounts due to promotions being offered on the EX4200. Refer to the attached documents for product comparisons and promotional details.
People interested in learning more about Juniper Networks can visit Juniper University, where you can request remote virtual product demos in our "Juniper Lab", or request hands on Juniper demo units. To sign up for the Juniper University series, visit the Great Lakes Computer or call 1-800-488-2587.
# # #