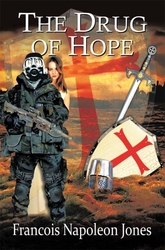 the coldest winter in 200 years
Bloomington, IN (Vocus) July 24, 2010
Inspired by great philosophers and experts in scientific management, novelist Francois Napoleon Jones has long believed that widely held beliefs – such as the beliefs surrounding the life of Jesus Christ – should be challenged and that alternative explanations should be sought as a way of positive reinforcement.
His latest book, The Drug of Hope, jumpstarts the adventure of Sam Brooker, a former Special Air Services soldier and policeman, as he sets out so find the person responsible for murdering his wife and daughter. Brooker and friend David York, fellow former soldier and independently wealthy playboy, find themselves in the midst of a centuries-old mystery—the secrets of the bloodline of Jesus and the Holy Grail—when they uncover the Sect, the keepers of the secret, and the assassins assigned to protecting it.
Jones was born in Coventry, England, in "the coldest winter in 200 years," he says. He was schooled from an early age to become an articled accountant but soon grew bored with the teachings, leaving school at 17 to join the army. He later became an industrial engineer, becoming a minor celebrity for his work in office automation. In 2000, Jones took his knowledge to South Africa to help develop the country and continent technologically as founder of 3R Software Solutions.
The Drug of Hope is Book One of a three-part adventure following Brooker and York on their journey throughout the United Kingdom. Book Two continues the adventure but travels back in time to 1314 to chronicle the lives of the Knights Templar. Book Three returns to present day in the U.K. to conclude the saga. For more information on Jones and his new book, please visit http://www.francoisnapoleonjones.com.
The Drug of Hope
By Francois Napoleon Jones
ISBN: 9781449080495
Paperback 6x9, $10.40
Hardcover 6x9, $15.40
E-book $4.95
Approximately 284 pages
Available at http://www.amazon.com
About the author: Francois Napoleon Jones was born in Coventry, England, after World War II.
AuthorHouse is the premier book publisher for emerging, self-published authors. For more information, please visit http://www.authorhouse.com.
###