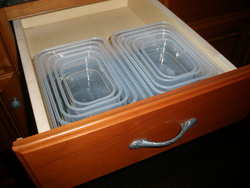 The office received our group order of StackMates today and people's faces have been lighting up all morning! We're all feeling quite "kitchen nerdy" discussing them, but realize the desire for order amongst food storage containers is virtually universal.
Norwalk, CT (PRWEB) July 26, 2010
National Express, Inc. (NEI) of Norwalk, CT, announces the launch of the unique Stack Mates Storage System. Stack Mates are the newest As Seen on TV (ASOTV) product to hit the market and they eliminate all consumer frustrations surrounding food storage containers. Stack Mates' main feature, which competitive products do not address, is the ability to nest and achieve compact storage.
The nesting / space-saving feature follows the idea of Russian nesting dolls, known as matryoshka or babushka*, with dolls of decreasing sizes placed one inside the other. With Stack Mates, the patented** design allows the lids to secure easily to the bottoms of the containers, allowing each container to nest into its larger mate with the lid conveniently attached; this frees up premium kitchen space and avoids the frustration of lost lids. With easy to find lids and a patented nesting design Stack Mates achieve kitchen organization by keeping cabinets clutter free.
Stack Mates are a must for small kitchens, restaurants, boats, campers, RVs and dorm living. Stack Mates easily fit into any kitchen draw, cabinet or pantry, or can be stored neatly on a kitchen counter or above the fridge. No matter how small or large the kitchen, now all consumers can stay organized.
Additional Stack Mate features:
· 100% BPA free, confirmed through lab testing
· Microwave safe; dishwasher safe; freezer safe
· Patented, color-coordinated lids match to base for easy sorting and mating
· Carry-n-go: Five containers nest under 3inches making Stack Mates perfect for outings (picnics/beach/birthdays)
· Leak-proof and airtight to lock in freshness and avert spills
· Rectangular shape to fill without a spill and modular design for steady stacking
· Designer colors to complement all kitchen decors
With the introduction of the Stack Mates Storage System...the search for the best food storage containers may have just ended! For more information (complete with infomercial) visit the official website at: http://www.buyStackMates.com
National Express Inc. (NEI) offers a lifetime warranty and 90-day return policy (S/H included).
*The first Russian nested doll set was carved in 1890 by Vasily Zvyozdochkin from a design by Sergey Malyutin. Matryoshkas are also used metaphorically, as a design paradigm, known as the "matryoshka principle" or "nested doll principle." It denotes a recognizable relationship of "similar object within similar object" that appears in the design of many other natural and man-made things. The onion metaphor is of similar character—if the outer layer is peeled off an onion, a similar onion exists within.
Wikipedia.org Reference
**Patent and product development attributed to Karen Norris, a current resident of Lehigh Valley, PA and native resident of Long Island, NY.
# # #