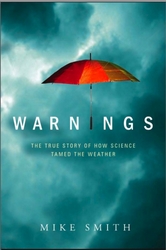 Wichita, KS (PRWEB) July 27, 2010
The month of August commemorates the twenty-fifth year of the scientific confirmation of microbursts, and the fateful Delta 191 crash. Airline accidents due to microbursts have since been eliminated. According to the National Transportation Safety Board (NTSB) over the past 25 years there has been only one microburst-related disaster which was determined to be pilot error. The NTSB, established in 1967, has investigated more than 132,000 aviation incidents including microburst accidents.
Based on the investigation and new understanding of the microburst impact on Delta 191, professional pilots now receive extensive training utilizing a microburst simulator. "In the past, commercial airline accidents occurred about every sixteen months. The understanding of microbursts and pilot training over the past 25 years is estimated to have saved 2,250 lives," states Mike Smith an extreme weather expert with Mike Smith Enterprises. Smith researched the findings of microburst studies and progress made since the Delta 191 crash in his 2010 book Warnings - The True Story of How Science Tamed the Weather . ###
About Mike Smith Enterprises, LLC
Mike Smith Enterprises, LLC, (MSE) is a consulting firm offering expertise on extreme weather and its effects on people and businesses. Mike Smith, owner of MSE, is author of the book Warnings: The True Story of How Science Tamed the Weather (Greenleaf Book Group, 2010), an account of people and property affected by the worst US storms in the past 50 years, and also numerous popular and technical articles. Smith is a professional speaker, has been granted 18 U.S. and foreign patents, and is a published photographer. Smith is the founder of WeatherData, Inc. which was acquired by AccuWeather in 2006, and now serves as CEO. http://www.mikesmithenterprises.com.
###