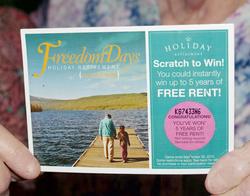 When I told my wife and son, they about went into orbit, and I just broke down and cried," Allen, 72, said. "I've never won anything in my life.
Salem, OR (Vocus) July 26, 2010
Holiday Retirement, a leader in the independent retirement living industry since 1971, is giving seniors the opportunity to win free rent during its Freedom Days celebration.
Seniors who tour a Holiday Retirement community before September 30, 2010 will receive a Freedom Days scratch card for the chance to instantly win up to five years of free rent.
Rent at Holiday Retirement includes a private apartment, three chef-prepared meals served daily, live-in managers, transportation, activities, entertainment, housekeeping, a resident travel program, and more. Visit http://www.holidayfreedomdays.com to learn more.
Holiday Retirement has already announced two Freedom Days winners. The first was Allen Ehlers of Del Rio, Texas, who toured Copley Place in Copley, Ohio while visiting his son Timothy. He scratched his ticket for one year of free rent on July 17, 2010.
"When I told my wife and son, they about went into orbit, and I just broke down and cried," Allen, 72, said. "I've never won anything in my life."
Allen and Charlene Ehlers founded and operate Faith Mission International, an organization that has performed missionary work in Acuña, Mexico since 1963. The Ehlers organize the distribution of approximately 1 million pounds of food per year, have built 70 houses in seven years for underprivileged people, and have started 20 churches.
"They are amazing people who have given so much of their lives to others," said Copley Place's co-manager Loretta Carris. "What a way to have a winner."
The couple plans to relocate to Ohio in the near future while maintaining ties with their organization and friends in Texas through Holiday Retirement's exclusive travel program, which allows residents to stay free of charge at nearly 300 communities across North America.
"We are so thankful," Allen said. "We've lived in huts in Mexico, rented a house that had paper walls in Japan, and slept in people's front rooms and in our car … this is just a real blessing."
The second Freedom Days winner and the first person to win five years of free rent was Brenda Haney, 62, of Chattanooga, Tenn. She received a winning scratch card after touring Creekside at Shallowford on July 19.
"It was like a dream," Brenda said. "It's one of the most exciting things to ever happen to me. I didn't sleep a wink that night, and we still can't believe it. We feel so blessed to have the opportunity to be offered something like this."
Holiday Retirement communities will be hosting Freedom Days events throughout August. Visit http://www.holidaytouch.com to locate a community.
Freedom Days is part of Holiday Retirement's ongoing effort to recognize and honor all veterans. Holiday Retirement communities regularly provide support to veterans in applying for service-related benefits through educational workshops and relationships with local benefits specialists.
Holiday Retirement is also a National Founding Partner in the Library of Congress' Veterans History Project and a national partner with American Veterans, offering exclusive discounts to its approximately 180,000 members.
To learn more about Holiday Retirement, visit http://www.holidaytouch.com or call 503-586-7293.
For more than 40 years, Holiday Retirement has been a pioneer and a leader in the independent retirement living industry. Operating more than 300 communities throughout the United States and Canada, Holiday Retirement provides seniors with a rewarding and enriching lifestyle through affordable living arrangements, plentiful amenities, and a supportive, welcoming community to call home. For more information, call 503-586-7293 or visit http://www.holidaytouch.com.
Press Contact: Kelli Gassman
503-586-7293
###