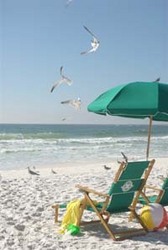 What will you Be in Beaches of South Walton?
Santa Rosa Beach, FL (PRWEB) July 26, 2010
Beachguide.com announces the launch of "Be Beaches of South Walton" campaign. The ninety-day radio and television ad campaign by the Beaches of South Walton and funded by BP's tourism fund is an effort to boost a damaged tourism market as a result of the Gulf Coast Oil Spill.
The campaign focuses on the growing cultural experiences available along the beaches of Northwest Florida, including YOLO boarding, lifestyle classes at Studio b., and family adventures such as zip lining. "This campaign has a long-term strategy and approach and asks the consumer, 'What will you Be in Beaches of South Walton?'," said Loretta Shaffer, TDC's director of marketing and internet. "With all the different activities that our area has to offer; there is truly something for everyone."
The radio and television spots further highlight that the beaches are clean and open to the public. "We hope that the ad campaign sparks interest in the visitors who were either planning on cancelling their vacations or those who were not planning to visit the beach at all due to the oil spill. The campaign truly recognizes the beaches' unique, cultural lifestyle and we invite our new and former guests back to the beach for a week of memories," said Justin Shelton, owner of Sandcastle Escapes Vacation Rentals.
The ads are currently airing on CNN, Fox News, The Weather Channel and several other stations. Radio spots are also being aired in markets including Atlanta, Baltimore, Birmingham, Dallas, Houston and Nashville.
Beachguide.com is pleased to be a part of the awareness campaign aimed at increasing tourism for Florida vacation rentals in markets relatively unaffected by the Gulf Coast oil spill, including Highway 30-A, Destin, Florida and Panama City Beach.
# # #