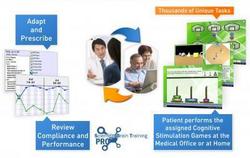 Objective measures of patient performance are essential to support the case for continued reimbursable services
Santa Cruz, CA (PRWEB) July 27, 2010
HAPPYneuron, Inc., the leading provider of professional cognitive therapy solutions, has launched the 'Aging Well' cognitive therapy program on its Scientific Brain Training PRO tele-medicine platform. The Aging Well program is a scientifically designed and validated course of supervised cognitive stimulation to help healthy seniors and those suffering from Mild Cognitive Impairment (MCI) deal with the symptoms of memory loss and cognitive decline. The Aging Well program resides on the Scientific Brain Training PRO tele-medicine platform and empowers cognitive therapists with the necessary tools to work effectively with their patients both within the clinic and their patient's home.
The Aging Well program is designed by award winning Dr. Bernard Croisile, MD Neurology, Ph.D. and consists of 23 adaptive cognitive exercises in the form of interactive games. These games have been built to target a particular set of cognitive functions and to heighten patient engagement. Cognitive skills stimulated include memory, attention, language, visual-spatial skills and executive functions. The program framework contains many important features developed specifically for seniors such as larger fonts, larger buttons, touch-screen compatibility, little time pressure and plenty of hints and tips to encourage progress. "Our residents feel their skills are enhanced thanks to their work with the Aging Well program. They are very motivated by these new formats of memory workshops." Ms. Desroches, Clinical Therapist, La Providence Nursing Home, Le Coteaux, France.
The program can be administered by any professional care provider including cognitive therapists, geriatricians, nurse practitioners, cognitive psychologists, independent living and assisted living staff. Leveraging the power of the Web, clinical therapists now have all the tools necessary to assign seniors to the program, provide personalized coaching services and monitor program compliance and performance over time. "Designed with the professional therapist in mind, The Aging Well program on Scientific Brain Training PRO brings together tele-medicine delivery of critically important cognitive stimulation programs that enables, for the first time, fully supervised distance therapy. This can play an important role in enabling seniors to stay in their homes and live more vital year," said Laura Fay, CEO, HAPPYneuron, Inc.
The Aging Well program delivers objective performance measurements helping in the assessment of patient cognitive decline over time. These measurements make the case for Medicare or Medicaid reimbursements of needed services. "Objective measures of patient performance are essential to support the case for continued reimbursable services," noted Bruce Brotter, PhD, COO and Director of Clinical Services, Memory Training Centers of America, whose organization offers memory treatment services for patients with MCI & Early Alzheimer's disease.
The Scientific Brain Training PRO platform is highly scalable making it suitable for individual therapist practices and large hospital systems alike. Currently the four cognitive treatment programs available include Cognitive Rehabilitation (TBI, Stroke), Cognitive Remediation in Psychiatry (Major depression, Schizophrenia, bi-polar disorder and PTSD), Aging Well (healthy seniors, MCI) and Memory Treatment (MCI and early Alzheimer's' disease). Free 30-day trials are available for all qualified professionals. To learn more, visit http://www.SBTpro.com.
About HAPPYneuron, Inc.
A pioneer in brain training and rehabilitation solutions, HAPPYneuron offers a broad range of scientifically validated, personalized programs in multi-media formats for adults and seniors. HAPPYneuron is dedicated to improving cognitive health through evidence-based products for individuals and cognitive therapy professionals worldwide. HAPPYneuron is a Scientific Brain Training TM Company (NYSE Euronext: MLSBT) company. To learn more visit http://www.SBTpro.com.
This press release was distributed through PRWeb by Human Resources Marketer (SeniorCare Marketer: http://www.seniorcaremarketer.com) on behalf of the company listed above.
# # #