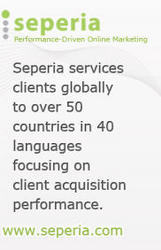 Edge.BI enables allowance for an end-to-end ROI picture, now available to all authorized persons as SaaS."
(PRWEB) July 27, 2010
Seperia (formerly easynet search marketing), providing performance-driven online marketing services to clients in competitive industries, is migrating its managed Edge.BI accounts to the cloud.
For over 3 years, Seperia has been using Edge.BI to manage a host of data intensive Google Adwords and Facebook advertising accounts. Initially, Edge.BI was installed on the organizational intranet and accessed from within the network. Now that Edge.BI has been released as a SaaS offering, Seperia will add all new client accounts directly to the Edge.BI cloud plus begin migrating existing accounts. This enables all benefits of an online application such as, 24/7 access to a flexible, scalable cloud computing platform in accordance with security best practices.
CEO Amir Yarkoni explains: "Edge.BI is an instrumental tool for our PPC optimizers and managers in their daily optimization work. Up to now it has been used from within our network. This implies certain limitations on usage, primarily where it is used, and by whom. Now, all authorized persons can access their Edge.BI accounts anytime, anywhere."
"In addition, we have witnessed rising demand from our clients to see the real ROI of their advertising activity coming from their own back end and free of pixel tracking discrepancies. For example, some of our clients acquire paying customers online. A pixel-tracked 'conversion' that tracks a free user registration is not sufficient to validate actual ROI. Rather, they must see actual premium user metrics that a campaign has driven, with associated revenue, as appears in their back-end tracking. Edge.BI enables allowance for this kind of end-to-end ROI picture.
"Moreover, Edge.BI allows segmentation of activity by cross-campaign attributes such as language, theme, unique selling proposition, and others – it provides them with actionable online marketing insights at unprecedented speed."
About Seperia (http://www.seperia.com)
Seperia services clients globally to over 50 countries in 40 languages focusing on client acquisition performance. Seperia specializes in channels and media that are measurable, analyzable, optimizable, and conversion-driven. These include search engine marketing, social media advertising, and conversion optimization. Seperia is using Edge.BI to optimize large scale PPC accounts
About Edge.BI (http://edge.bi)
Bringing the power of business intelligence (BI) to online marketing, the Edge.BI SaaS enables PPC optimizers and managers to discover numerous opportunities within data-intensive online marketing activities. By integrating web traffic data with back-end/CRM data, and allowing ROI discovery with smart alerts and ultra-fast, granular-level analysis, Edge.BI enables online marketers to efficiently scale client acquisition.
###