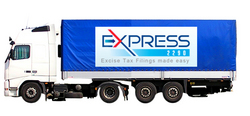 Express2290.com is all about convenience. The system automatically generates a 8849 form while users file for 2290--saving filers time and money. Users can even receive quick notifications via email, text message, and fax.
Charlotte, NC (PRWEB) July 26, 2010
Great news: Express2290.com is now accepting 2010 tax year filings for Form 2290—Heavy Vehicle Use Tax (HVUT).
Express 2290 was created by the most experienced team in the industry. Their fast and intuitive system is as powerful as it is versatile. Whether it's a one-man trucking company, or a national corporation with multiple fleets, everyone can get far when they're rolling with Express 2290.
Here are some of the services Express 2290 offers:
Easy-to-use system
-Contextual help windows and clear instructions abound. They've done everything possible to make taxes less taxing.
Fast notifications
-Get notifications about your e-file status through email, text message and even fax! Premium features like text and fax notifications are free for a limited time.
Bulk upload
-Companies with more than 25 trucks must e-file Form 2290 for their trucks, according to the IRS. Instead of entering each truck one by one, Express 2290 users can upload whole fleets using an Excel spreadsheet.
Quick credits
-While filing Form 2290, the Express 2290 system can identify credits and help users quickly and easily file Form 8849, so users get their money back from the IRS faster. Express 2290 automatically generates the 8849 form when tax credits exceed the amount of tax due. Easy!
There are more features of course—applications for form amendments and easy VIN corrections. Express 2290 offers dozens of prices and packages to suit any company in any situation. Tax professionals; take advantage of deep price discounts and special packages for your clients. The Express 2290 system is so fast; users can receive their Schedule 1 form from the IRS in a matter of minutes.
Express 2290 also offers a Full Service option for users that don't have a lot of time on their hands. They just send in their information, and the Express 2290 team handles the rest. Express 2290 has local email, chat and phone support, based in Rock Hill, SC.
There's really no better combination of affordable prices and knowledgeable professionalism in the industry. Get started now, visit Express2290.com
###