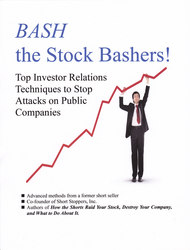 Dunedin, FL (PRWEB) July 29, 2010
A former short seller reveals top investor relations techniques to stop "Bashers" from harming public companies. Stock bashers are those who post false and defamatory comments on stock chart sites.
His new book, "Bash the Stock Bashers!" helps those afflicted with Stock "Bashers" on stock chat websites. These people lie, slander, use scare tactics to frighten investors, kill deals, cause embarrassment, harass business partners, and cause other harm while posting anonymously on stock forums.
The new book is available on Amazon.com. "If nothing is done about these Bashers, the situation will only get worse, taking your company to the short sellers' graveyard like so many others," said John Lux, author. "In order to survive, you must fight back!"
Mr. Lux is author of "How the Shorts Raid Your Stock, Destroy Your Company and What to Do About It" is a former short seller and a principal in Short Stoppers, Inc.
# # #