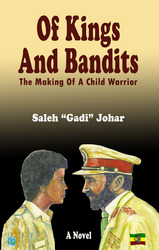 The audience was riveted during his reading, for it is a powerful story full of imagery and action set in a world one could barely fathom, let alone ever personally experience. Saleh Johar left everyone wanting more!
Sacramento, CA (PRWEB) July 27, 2010
In "Of Kings And Bandits", Saleh Johar tells a powerful story that is never told: that many "child warriors" to whom we are asked to offer sympathies befitting helpless victims and hostages are actually premature adults who have made a conscious decision to stand up against brutality and oppression, and actually deserve our admiration. And that many of those whom we instinctively feel sympathetic towards, like the Ethiopian king Emperor Haile Selasse, were actually world-class tyrants whose transgressions would normally be cases in the World Court.
"I know this is a controversial position. I understand that many of the admirers of King Haile Selasse will be offended. I am also sure that many of the NGOs who have made a cottage industry of "child warriors" will feel aggrieved. But the story I have to tell deserves a hearing," says the author, Saleh Gadi Johar. "Today, if an absolute ruler were to massacre hundreds of women, children and the elderly on, say, Christmas Day, he would, rightly, be a candidate for the World Court, and be accused of terrorism and crimes against humanity. But that is what Haile Selasse did in 1970, on Eid, one of two holiest days for Moslems, and he is still sanctified as a just man, if slightly suffering from late onset Alzheimers."
Set in the era of turmoil, from the early 1960s to the late 1970s, "Of Kings And Bandits" recounts the historical, cultural, and religious aspects of a war-torn society in Eritrea (East Africa) from the perspective of a young boy, who is a witness to those who were caught in the cross-fire between Eritreans and Ethiopians. It is a story of how the violence and cruelty of war strips children of their innocence and forces them to carry the burdens of adulthood prematurely.
Although narrating a story that is four decades old, the questions posed by "Of Kings And Bandits" are just as relevant today: How much firepower is enough to subdue rebellion? Does the so-called "overwhleming force" approach to war actually take into consideration that those who are being overwhelmed have children who dream of overwhelming their adversaries? Have military strategists who count the assets of their adversaries actually considered that "child warriors" can be just as lethal as "adult warriors"?
A roller coaster of culture, spirituality, religion, and history, Of Kings And Bandits is a 30-chapter book layered with colorful individuals who do not allow war and mayhem to get in the way of their daily lives, the hustle and bustle of living and making a living, and are, therefore, willing to accept a generational war, as long as they perceive it as a just war.
"I did not want to write a book about war. You will not find here much about military technology and pincer movements. I wanted to write the story of what drives people, including children, to carry guns. I wanted to write a story about the richness of life, even when it is interrupted by war and cruelty. It really is a book celebratating the enduring nature of man. And I truly believe it will be an eye opener for many who are not familiar with African cultures in general, and Eritrean culture, specifically."
"Of Kings And Bandits": (327 pages, published by negaritmedia, ISBN: 978-0-578-06134-4). Published by Negarit Media (http://www.negaritmedia.com) and avilable at negaritmedia.com and amazom.com.
###