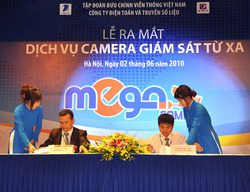 "The MegaCamera solution will be a very attractive and competitive option for Vietnamese customers... It will allow VDC to enter a new attractive market of video surveillance". Director of Product Management, VDC
Hanoi, Vietnam (PRWEB) July 27, 2010
VDC Online (http://www.vdc.com.vn) today announced the signing of a Distribution Agreement with NeoVSP™ (http://www.neovsp.com), a market leader in Video Surveillance as a Service (VsaaS) solutions. With OVS™ (Online Video Surveillance) solution, VDC can offer Vietnamese customers a cost-effective mass-market solution delivered as a service over Internet. Using only an IP camera, the customer can access the live and recorded video from anywhere, anytime.
OVS™ is a patented, carrier-grade, MVaaS (Managed Video as a Service) solution for Telecom/ISP providers, monitoring companies, and large integrators, as managed service providers (MSP). It is a centrally hosted video monitoring solution designed for the mass market. NeoVSP's™ platform intelligently stores and manages video content originating from IP and analog cameras, and efficiently delivers this content to multiple user devices, such as web browsers, mobile phones, and media sets, for mass market usage.
OVS™ enables operators to penetrate the new VAS markets, and transform existing monitoring services to a managed service with recurring payments. OVS™ virtually eliminates the costs of storing and analyzing video content, while assuring instant ROI (return on investment).
According to Mr. Tuan Ta, Director of Product Management, VDC: "The MegaCamera solution will be a very attractive and competitive option for Vietnamese customers. The mass-market nature of the solution will enable it to provide a cost-effective alternative to VDC customers, and allow VDC to enter a new attractive market of video surveillance."
Eli Sahar, CEO of NeoVSP™ said: "We are happy to see VDC joining our growing list of global Telco partners. There is a high demand for cost-effective security solutions in Vietnam, and VDC's MegaCamera service, powered by the OVS™ solution, will provide a perfect answer for these needs."
VDC announcement and a TV spot: http://www.vdc.com.vn/detail/news/2/4/98/100/821/index.htm
About VDC (http://vdc.com.vn)
Vietnam Data Communications Company (VDC), a state owned company under the Vietnam Post and Telecommunication Corporation (VNPT) is a leading company in the field of information technology in Vietnam. We provide Internet (taking 65% market share of Vietnam), VoIP (taking 75% market share of Vietnam), Data transmission (taking 90% market share of Vietnam), Integrated Solution, Software and Value Added services.
For information about VDC and its products and services:
Vietnam Data Communications Company,
292 Tay Son Street, Hanoi, Vietnam;
Tel: (84) 4 5372755; Fax: (84) 4 5372753;
About NeoVSP™ (http://www.neovsp.com)
NeoVSP™ is the leading provider of next generation video monitoring solutions, provided as a carrier-grade Managed Video as a Service (RVMaS) platform, designed for Telco/ISP providers, monitoring companies and large IT integrators.
For information about NeoVSP™ and its products and services:
Neo IT
11 Derech HaShalom St., Tel-Aviv, Israel;
Tel: +972-3-561-9770
For Enquiries
Mr. Oded Ilan, +972-3-561-9770
###