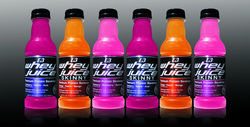 Whether someone is an athlete, non-athlete, whatever one's fitness level, Whey Juice is for everybody – that is what EB stands for.
Deerfield Beach, FL (PRWEB) July 26, 2010
EB Performance today announced the launches of Whey Juice® and Whey Juice® Skinny™, its premium protein beverage lines. They are the latest products in the company's unique array of nutritious and flavorful snacks and beverages, following PB & Whey Protein Bites®.
"We approached the Whey Juice beverages the same way we approached our snack line, products that are healthy and great-tasting," said Dan Schapiro, co-founder of EB Performance. "The final products far exceed our high expectations. While other companies are just now entering the category, ours is truly the first delicious protein beverage with no artificial ingredients. Consumers at our in-store demos continually ask us how we were able to get a protein drink to not taste like a protein drink – it tastes very light and clean."
Whey Juice and Whey Juice Skinny are available in three flavors, which are Cranberry-Apple-Acai, Strawberry-Blueberry-Banana and Orange-Peach-Mango. The drinks are sold in the Florida and Southwest regions of Whole Foods Market stores, and online at EBPerformance.com.
Each bottle is packed with 15 grams of the highest-quality whey protein isolate and 3 grams of prebiotic fiber. The drinks do not contain any preservatives, artificial sweeteners, artificial colors or artificial flavors.
Whey Juice is sweetened with organic agave nectar, a low-glycemic sweetener, while Whey Juice Skinny, a lower-calorie version, is made with a proprietary blend of organic agave nectar and stevia. The drinks are gluten-free and lactose-free.
"We didn't want them to be like the typical "heavy, chalky milkshake" protein drinks on the market," said Dr. Nathan Feldman, co-founder of EB Performance. "Many on the market contain inferior protein sources and artificial ingredients. Whether someone is an athlete, non-athlete, whatever one's fitness level, Whey Juice is for everybody – that is what EB stands for."
EB also has a rich pipeline of innovative products. The company's goal is to offer the consumer healthier snack and beverage alternatives while emphasizing the benefits of whey protein.
Whey protein is considered the highest quality form of protein and contains essential amino acids that the body requires for good health. In addition, it offers excellent digestibility and research has shown its ability to support satiety.
About EB Performance
Founded in 2004, EB Performance LLC develops, manufactures and distributes great-tasting, healthy protein snack food and beverage products to retailers and individual consumers nationwide. In addition, the company's products are used by leading collegiate and professional sports teams across the country. Developed by two friends in the back kitchen of a local grocery store, EB Performance was born out of the frustration of trying to find protein snacks that provided a balance of great taste, healthy ingredients and functionality for active lifestyles. EB Performance is committed to creating and delivering a variety of nutritional and flavorful products for today's busy and discerning consumers. For more information, please visit http://www.EBPerformance.com.
# # #