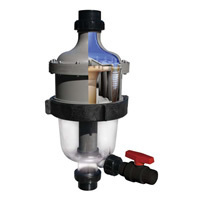 The great benefit if the MultiCyclone 50 filter is its compact size
Independence, MO (Vocus) July 26, 2010
KoiPondFever.com has added the MultiCyclone 50 to their product line. Based on the principals of centrifugal water filtration, MultiCyclone is a revolutionary new pre-filtration device which captures 80% of the dirt load before it ever reaches the filter. The water enters 16 mini hydro cyclones causing solids to separate and settle into the clear collection chamber until drained. It only takes 4 gallons of water to flush the solids from the collection chamber, reducing maintenance of the filter and saving over 50% water from back washing a bead or pressure filter. The MultiCyclone 50 improves water quality and reduces sludge buildup.
"The great benefit if the MultiCyclone 50 filter is its compact size", states RC Moore, owner and president of KoiPondFever.com. " Unlike the vortex filter, which is quite large and has to set above the water level of the pond, the MultiCyclone filter is only 24" tall and 12" in diameter".
Filtration in koi ponds has always been a challenge. Proper water flow and a skimmer to remove debris that float on the water surface play a major part in koi pond filtration. The larger the pond is and the more koi that are kept in the pond becomes taxing on the filtration system. Koi keepers may have started with a large enough pump and skimmer in the beginning, but as the koi grow larger the filtration becomes inadequate. Leaves and other debris that do not get cleaned out and the waste from the koi can build up over time and end up as sludge in the bottom of the koi pond reducing water quality. Installing a bottom drain and adding a pressure filter, like the Ultima II series filters from Aqua Ultraviolet , greatly improves the biological and mechanical filtration of the koi pond. These filters require frequent back washing to main proper water quality using a lot of water. The MultiCyclone is installed between the pump and the pressure filter to remove 80% of the dirt load before it gets to the filter. It only takes 4 gallons to empty the solids collection chamber saving over 50% of water from back washing the pressure filter.
The MultiCyclone 50 has a 2" inlet and 2" outlet and comes with all the fittings to install including true unions, the ball valve, and drain. It has no moving parts to wear out, no filter media to change, and filters out 90% of particles 30 micron or larger. It comes with a 2 year warrantee and KoiPondFever.com has free shipping on this Item. The MultiCyclone filter from WATERCO was designed for use in swimming pool applications. Just like the bead filter it has earned a place in koi pond filtration.
For more information vist KoiPondFever.com.
###