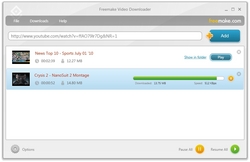 Get easy and quick downloads of any video from a huge database for free!
Los Angeles, CA (PRWEB) July 29, 2010
Freemake Video Downloader is a free program recently released by Freemake, a new freeware developer. It is an all-in-one free video downloader & converter that enables downloading from YouTube, Google, Facebook, Dailymotion, Megavideo, Metacafe, Vimeo, Veoh, Break, Stupidvideos, Liveleak, Photobucket, and many other websites. Freemake developers are constantly expanding the list of supported resourses.
Freemake Video Downloader extracts MP3 from video clips from any website listed above. Never has it been easier to enjoy high-quality audio taken from original videos. Moreover, the new program enables conversion of online videos to AVI, a universal PC video format.
With Freemake Video Downloader, all you need is to paste a video link, choose the quality, and press "Download". If you want to download YouTube or Facebook private videos, just enter your account information.
The new freeware allows to run several downloads simultaneously and at the highest speed possible due to the multithreading technology. Users can easily download videos in 4K 4096p, HD 1080p, HD 720p, 480p, 320p, 240p. A proxy server helps to obtain videos unavailable in a certain country. The ergonomic interface will guide you during the entire, fast process, making the interaction easy and engaging.
About Freemake
Freemake is a new freeware developer. Industry best practices, cutting-edge technologies and advanced programming tools are the drivers behind Freemake software. The company's motto "… good software must be free" reflects its strategy in a nutshell. With this exciting array of Freemake freeware, everyone can enjoy the maximum benefits of multimedia.
# # #