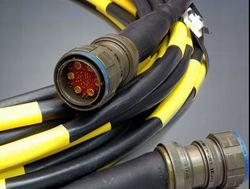 Moorestown, NJ (PRWEB) July 29, 2010
Trek Connect offers broad expertise and capabilities in custom cable assembly to the military, aerospace, audio/broadcast, armored vehicle, commercial, medical, shipboard, industrial, space, and telecommunications industries.
Trek can design and build to print high-reliability copper and fiber optic custom cable assemblies using state-of-the-art components for use in applications with high shock, severe vibration and EMI-RFI shielding requirements.
Trek Connect offers design services and solutions for copper and fiber optic custom cable assemblies to help its customers drive down engineering and prototyping costs in the development, fabrication, and integration of complex electro-mechanical systems, for use across multiple markets in both test and production environments.
Trek Connect technicians are well-trained, certified and experienced in Navy Shipboard Fiber Optic termination and inspection in accordance with MIL-STD-2042B. Trek Connect utilizes state-of the art cleaning and inspection equipment to insure performance to rigorous standards.
Trek Connect fiber optic cable assemblies, fiber optic breakout boxes and systems typically use high-reliability components per:

MIL-PRF-28876 and accessories
MIL-PRF-29504 Termini
MIL-C-83522 ST Interconnects
MIL-PRF-85045 (LSZH) Low Smoke Zero Halogen multi-fiber cable
NAVSEA FC, ST, SC, Simplex, Duplex
Trek Connect designs and fabricates custom in-house test cables (TCAT) and test fixtures to interface between our state-of-the-art CIRRIS® Signature 1100 Series Advanced Continuity and Hi-Pot AC/DC test systems (up to 1500VDC) and our deliverable assemblies, insuring that the assemblies meet or exceed applicable customer and military specifications. Higher test voltages are achieved using our manual Hi-Pot test equipment.
Trek Connect also has the following capabilities:

Standard and custom applications, including RF-resistive load terminators (coax/triax)
Custom between-series connector adapters
Military specification connectors with resistive load terminator or loop back circuits
Cable overmolding needs using Mil-spec compounds and LSZH (Low Smoke Zero Halogen) compounds.
Naval switching units (NTDS) designed to meet MIL-STD-1397A.
Trek Connect, Inc. (Trek), a custom cable and wire harness manufacturer, is certified to AS9100, the international aerospace standard for quality management systems. Trek Connect assemblers are certified to IPC/WHMA-620A - Requirements and Acceptance for Cable and Wire Harness Assemblies.
# # #