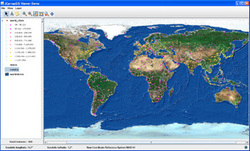 Houston, TX (PRWEB) July 27, 2010
Interactive Network Technologies, Inc. (INT), a leading developer of high performance graphics components, announces availability of J/CarnacGIS 3.8. Written entirely in Java, J/CarnacGIS offers a rich graphics environment for building stand-alone or web-enabled clients for spatial data analysis. J/CarnacGIS components promote reusability and consistency across applications and allow developers to focus on their core technologies rather than spend time writing data displays.
J/CarnacGIS components interface easily with existing systems to provide enhanced services while preserving investments in data and infrastructure. A powerful data source framework allows application developers to use data from disparate sources in the same view. If the data is projected differently, J/CarnacGIS will transform it on the fly.
Highlights for this new release include:

Added support for Mr. SID image files
Updated to version 7.4.1 of the EPSG coordinate systems database and version 2.6.0 of GeoTools
Numerous improvements to the analysis capability
Added ability to cache symbol rendering to an image, and to define symbols from an image file.
Improved performance for tiled images
For more information about J/CarnacGIS, or to request an evaluation, visit http://www.int.com.
About INT
Industries faced with large, complex data including upstream oil and gas, medical imaging, defense, and finance rely on Interactive Network Technologies, Inc. (INT) for open and expandable visualization software, visualization software development components, and visualization development services. INT solutions support Java, C++, and .NET environments. For more information about INT, visit http://www.int.com or e-mail intinfo(at)int(dot)com.
INT, the INT logo, and INTViewer are trademarks of Interactive Networking Technologies, Inc. in the United States and/or other countries. All other trademarks are the property of their respective owners.
###