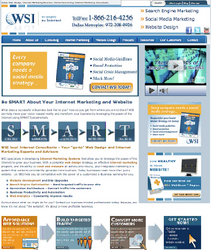 Dallas, TX (PRWEB) July 27, 2010
Patricia Jordan-Hinojos, a Dallas internet marketing expert says, "It's time businesses, large and small, have a simple way to think more strategically about their websites and online marketing. When S.M.A.R.T. principals are applied, significant money can be saved and results are achieved faster. We're launching this site and other interactive resources to make this an affordable reality for small business."
WSI Web SMART helps businesses, large and small, consider five areas when deciding on Internet marketing options, choosing an Internet Consultant or investing in website enhancements. These are easily remembered by the acronym S.M.A.R.T.

Strategy: Your website is your online business. Planning for the specific results you want to achieve is critical to success and helps prioritize the right action and investment decisions. Do not take another step without a written strategy.
Marketing: How are you attracting the right visitors to your site? Generating a constant flow of qualified leads from search engines and other properties is cost effective if done right.
Acquisition: Website traffic is meaningless unless the site has a persuasive message and clear paths that can convert those visitors to prospects and customers.
Retention & Reputation: Keeping existing customers coming back and having them promote through referrals is key to a successful online marketing system.
Tracking: Identifying your Key Performance Indicators (KPI's) and using instantly available performance data allows website owners to be agile and accurate when make critical decisions regarding Return on Investment.
Valuable whitepapers are available for free download off the new website on some of the hottest topics in "S.M.A.R.T." Internet marketing and website development. These are written in layman's terms so the tactics can be adopted easily. New white papers are added monthly. For a direct access to these, go to White Papers and Webinar page at http://wsiwebsmart.com/White-Papers.html .
Patricia Jordan-Hinojos has been helping small and medium businesses with their online marketing and web presence since opening the Dallas area (Plano, TX) office location in 2003. In 2009, her peers recognized Patricia as a top 25 revenue consultant world wide and top ten in the USA. Patricia has been a featured speaker at WSI's Global Excellence & Innovation conference in Las Vegas speaking on how to leverage the WSI resources for better profitability.
See examples, case studies, and videos of successes with local and national companies and get more information at WSIwebSMART.com or contact us at 972-208-0926.
Contact:
Patricia Jordan-Hinojos
972-208-0926
###