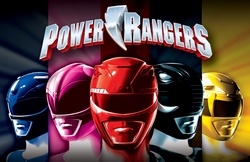 Los Angeles, CA (PRWEB) July 27, 2010
To achieve its goal of global distribution, Saban Brands, a subsidiary of Saban Capital Group, Inc., has selected MarVista Entertainment to represent the international television rights for the company's Power Rangers series, the long-running kids' TV phenomenon. Already lining up partners worldwide, MarVista Entertainment will be handling global sales for the entire Power Rangers library, which includes over 700 episodes produced over 17 years, as well as 20 new episodes for the upcoming 18th season slated to debut on Nickelodeon and Nicktoons in 2011. The property will be available and showcased at the MIPCOM conference in October.
"We are delighted to be partnering with MarVista Entertainment to bring Power Rangers to a new generation of viewers around the world," said Elie Dekel, President of Saban Brands. "This is a franchise with a truly global fan base and we look forward to re-introducing international audiences to this evergreen property through our new series, as well as the massive library of classic episodes."
"Power Rangers is one of the few true franchises in children's entertainment. It defined a generation, and MarVista is honored to be part of the team that will be re-introducing this renowned property to the global television marketplace," comments Fernando Szew, CEO of MarVista Entertainment. "We look forward to working with Haim Saban and his team, as well as current and new global broadcast partners, as we embark on a new era for this powerful global entertainment brand."
Following its introduction in 1993, Power Rangers quickly became the most watched children's television program in the United States. Emphasizing the importance of teamwork, responsibility and helping others by following the adventures of a group of ordinary young people who "morphed" into superheroes, the series was seen in more than 60 countries, translated into numerous languages, and was a mainstay in the most prominent international children's programming blocks. It rose to rank as the #1 boys brand in the world from 1993-97, based on toy sales and television ratings.
About MarVista Entertainment
MarVista Entertainment (http://www.marvista.net) a leading Los Angeles-based independent producer-distributor of features, children's and family programming, globally licenses television series, movies, documentaries and direct-to-DVD programming to multiple platforms throughout the world. Founded in September 2003 by CEO Fernando Szew andPresident Michael D. Jacobs; along with industry veterans Joseph Szew and George Port, MarVista's library features more than 2,000 hours of programming. The company has become a leader in providing television movies to major cable networks in the U.S., including over 25 telefilms for The Disney Channel, Lifetime Television Networks, Hallmark Channel, NBC Universal and ABC Family amongst others that have generated extensive global terrestrial and pay television sales. Earlier this year, MarVista formed a production and distribution alliance with SNAP TV in Argentina. Most recently, the Disney Channel's World Premiere of "16 Wishes," a co-production between MarVista and Disney Channel starring Debby Ryan, rated as the days No. 1 telecast in Kids 6-11 and Tweens 9-14 and was the night's most-watched cable telecast in Total Viewers.
About Saban Brands
Saban Brands, an affiliate of Saban Capital, was established in 2010 to acquire and develop a world-class portfolio of properties and capitalize on the company's experience, track record and capabilities in growing and monetizing consumer brands. SB applies a strategic management approach to enhancing and extending its brands in markets worldwide and to consumers of all ages. The company provides full service management, marketing, promotion and strategic business development for its intellectual properties including comprehensive strategies unique to each brand, trademark and copyright management and enforcement, creative design, retail development, direct-to-consumer initiatives and specialized property extensions. SB is led by a superior management team with decades of experience in licensing, marketing and finance.
About Saban Capital Group
Saban Capital Group ("SCG") is a leading private investment firm based in Los Angeles specializing in the media, entertainment and communications industries. Established in 2001 by Haim Saban, the firm makes both controlling and minority investments in public and private companies and takes an active role in its portfolio companies. SCG's current private equity investments include Univision (the premier Spanish-language media company in the US) and Tiger Gate Entertainment (a joint venture with Lionsgate to operate branded pay television channels across Asia). Saban Brands LLC, an affiliate of SCG, was formed in 2010, to acquire, manage and license entertainment properties and consumer brands across media and consumer platforms globally. In addition, SCG actively manages a globally diversified portfolio of investments across public equities, credit, alternative investments, and real property assets. For more information, please visit http://www.Saban.com.
###