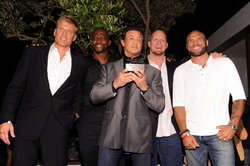 San Francisco, CA (PRWEB) July 26, 2010
Lights, camera, ACTION: IGN.com has launched an all-new Action Hero Hall of Fame – an action-packed online site celebrating the most memorable action heroes of the silver screen.
To kick things off, IGN honored movie legend Sylvester Stallone as the Action Hero Hall of Fame's inaugural inductee. The exclusive awards ceremony took place during IGN's San Diego Comic-Con event celebrating Lionsgate's release of The Expendables, which opens in theaters nationwide on August 13th.
Stallone's The Expendables co-stars – including Dolph Lundgren, Randy Couture, Steve Austin, Terry Crews and Charisma Carpenter – were on hand to help IGN Movies Editor-in-Chief Eric Moro present Stallone with the inaugural Action Hero Hall of Fame Award, and take a look back at his influential career in the genre.
"IGN's always looking to round out our content with stuff guys and entertainment enthusiasts love. And what self-respecting guy doesn't love a good action movie? Nobody in the business has done more for the action genre than Sly, and we're psyched to honor his career with our first-ever Action Hero Hall of Fame award," said Eric Moro, Editor-in-Chief, IGN Movies.
Celebrating the careers of Action's biggest stars, the Action Hero Hall of Fame site is a showcase for each inductee's career retrospective video, as well as a video acceptance speech. It is the latest entertainment feature to launch on IGN that lets fans get in on the action: in June, IGN announced a partnership with SyFy to launch "B Movie Mogul" (http://www.ign.com/syfy/) – an online feature that allows users to create the next SyFy B-Movie, which will air on SyFy in 2011.
IGN Entertainment, a unit of News Corporation, is the leading Internet media and services provider focused on the video game and entertainment enthusiast markets. Its flagship site IGN.com is the #1 website for video games information, and collectively, IGN's properties reached more than 37.8 million unique users worldwide in June 2010, according to comScore Media Metrix.
About The Expendables
The only life they've known is war. The only loyalty they have is to each other.
They are the Expendables: leader and mastermind Barney Ross (Stallone), former SAS blade expert Lee Christmas (Statham), hand-to-hand combat specialist Yin Yang (Li), long barrel weapons specialist Hale Caesar (Crews), demolitions expert Toll Road (Couture), and precision sniper Gunner Jensen (Lundgren). Living life in the fringes of the law, these hardened mercenaries take on what appears to be a routine assignment: a covert, CIA-funded operation to infiltrate the South American country of Vilena and overthrow its ruthless dictator General Garza (David Zayas). But when their job is revealed to be a suicide mission, the men are faced with a deadly choice, one that might redeem their souls…or destroy their brotherhood forever.
Co-writer, director and star Sylvester Stallone brings together a powerhouse cast of action superstars – never before seen together in one film – in Lionsgate's hard-hitting action thriller, THE EXPENDABLES. The film stars Sylvester Stallone, Jason Statham, and Jet Li, Dolph Lundgren, Eric Roberts, Randy Couture, Steve Austin, David Zayas with Terry Crews and Mickey Rourke. THE EXPENDABLES directed by Sylvester Stallone from a story by David Callaham and screenplay by David Callaham and Sylvester Stallone, and is produced by Avi Lerner, John Thompson and Kevin King Templeton. Lionsgate and Millennium Films present a Nu Image production.
###