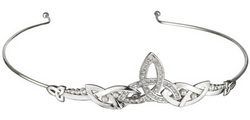 (Vocus) July 27, 2010
Celtic Jewellery Site carries silver and gold Celtic rings, pendants, earrings, and bracelets. A majority of the jewellery come directly from Ireland and have been hallmarked from the Dublin Assay office as the customer's assurance of the highest quality. Celtic designs are available including the Claddagh, Knotwork, luckenbooths, as well as a growing collection of Trinity Jewellery.
Celtic Jewellery Site's new collection of Trinity Jewellery includes the Trinity Knot, or Triquetra, one of the most common Celtic knots. Latin for three cornered, the word Triquetra originally meant triangle and referred to various three cornered shapes. It now refers to a more specific shape. The symbol predates Christianity and is believed to be a Celtic symbol of a Goddess. It appears often in Insular art (produced post-Roman history in the British Isles), in metal work and in illuminated manuscripts, like the Book of Kells. Although the exact meaning of the symbol is disputed, all agree that it's the joining of three.
Some of the most common triplicates applied to the trinity are Father, Son, and Holy Ghost;
Mind, Body, and Spirit; Past, Present, and Future; Earth, Sea, and Sky; and Earth, Fire, and Water. Occasionally, the trinity knot contains a circle to emphasize the unity of the three items. All Celtic knots are endless. No beginning or end emphasises the life cycle. In ancient times, Knotwork would be given as a wish of longevity.
Celtic Jewellery Site has a growing stock of Trinity jewellery. Trinity Rings are available in silver, yellow gold, and white gold. Trinity filigree bands have alternating trinity knots around the band. There are Claddagh heart rings with trinity knot shanks. For a subtle Celtic touch, simple trinity knot rings are also available. Trinity wedding rings are available with diamond and other precious stones.
Trinity pendants are also available in white gold, yellow gold, and silver. Claddagh pendants with trinity accents, trinity lockets, and simple trinity pendants are available. The pink Ribbon of Life trinity pendant makes a special gift for cancer survivors as a reminder of their triumphs or worn as a reminder of someone special. The white gold pearl trinity pendant makes a lovely gift and is available with matching earrings. The set is very popular wedding jewellery.
Besides the white gold pearl trinity earrings, there are also other silver and gold trinity earrings available. Simple studs, dangling knots, and engraved trinity earrings make great accessories for casual and formal wear. Trinity bracelets and bangles in silver or gold can also dress up a casual outfit.
For men, trinity cufflinks, tie tacs, and tie bars can also add a Celtic touch to an outfit. Incorporate them into your Celtic wedding.
As a special addition for a special day, consider a Trinity tiara available in two styles. A great accessory for any Celtic bride.
Visit http://www.CelticJewellerySite.com to see the trinity jewellery, Celtic rings, pendants, and earrings. Each purchase is beautifully boxed and includes a card outlining the meaning of the knotwork. With beautiful heirloom jewellery from Ireland with tradition and history, no wonder the trinity collection is a growing trend.
###