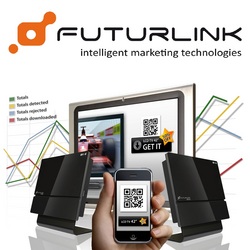 "Not only these results illustrate our leadership in proximity marketing, but they also provide insight on consumer behavior, showing higher download rate in shopping malls in Saudi Arabia than in the rest of the world" said Ricardo Garcia, FuturLink CEO.
(PRWEB) July 28, 2010
The FuturLink technology has once again demonstrated its leadership surpassing 16 million mobile downloads in proximity marketing campaigns via Bluetooth.
Using FuturLink Access Points thousands of brands have reached their customers on their most personal device, the mobile phone, in the right place and in the right moment.
Therefore FuturLink extends 16 million "Thank you's" to all partners and customers who have deployed these campaigns during these years around the world.
The technology of Mobile Proximity Marketing allows brands and content owners to reach mobile phone users through devices that send videos, images, coupons, applications, games, etc., with no cost for each content distribution.
As one of the pioneers in this field, FuturLink offers advanced platforms to create, manage and deploy Mobile Proximity Marketing Campaigns, controlling the results in real-time.
FuturLink Access Points (http://www.futurlink.com/en/products/view/1) are usually located on retail environments or public spaces, on a permanent basis or just temporarily for a certain campaign. When used in retail environments, brands influence consumers (sending them a coupon for example) usually near the purchasing decision or in the point of sale area, thus increasing sales as has been confirmed in different analysis cases.
This technology allows location-based mobile marketing for all mobile phones, without the need of GPS on the phone or the intervention of the mobile operator.
Adding all proximity marketing campaigns using FuturLink technology, around 200 million mobile phones have received an invitation to download a file for free via Bluetooth, with an important amount of recurrent users.
The 16 million downloads via Bluetooth imply a high download rate and, taking into account that these downloads are localized in the interest areas, each download value is far superior to other mobile marketing campaigns such as SMS massive distribution.
All these numbers are just downloads via Bluetooth, to which we may add all visits via WiFi to a local page offered by the FuturLink Access Points where mobile users have access to the same content.
Ricardo Garcia, FuturLink CEO, commented "Not only these results illustrate our leadership in proximity marketing, but they provide as well important insight about consumer behaviour, showing for example higher recurrence and higher download rate in permanent networks at shopping malls in Saudi Arabia than in the rest of the world".
FuturLink is nowadays leading as well the mobile interaction with Digital Signage displays, combining visual eye-catching information with its distribution to mobile phones so that the users may carry it away with them for a later use, such as redeeming a mobile coupon at a nearby store.
About FuturLink – http://www.futurlink.com
FuturLink, founded in 2003 with its headquarters in Barcelona Spain, is the leader in Intelligent Marketing Technologies. Since its foundation, FuturLink was renowned for its cutting edge technologies related to Mobile Proximity Marketing but recently the company decided to expand its knowledge and expertise to Intelligent Marketing. Since 2009, the company develops and manufactures equipment and applications for Mobile Marketing, Digital Signage and Internet offering multi-digital platforms that create effective communication between brands and consumers. FuturLink's platforms allow brands to get the right insight via advanced consumer metrics and analysis, create personalized messages and deliver them using the right digital medium, in the right place and moment. The tradition of innovation and technical leadership has allowed for its "world-class" technology to be present in over 80 countries.
###